Fabulous chocolatey cake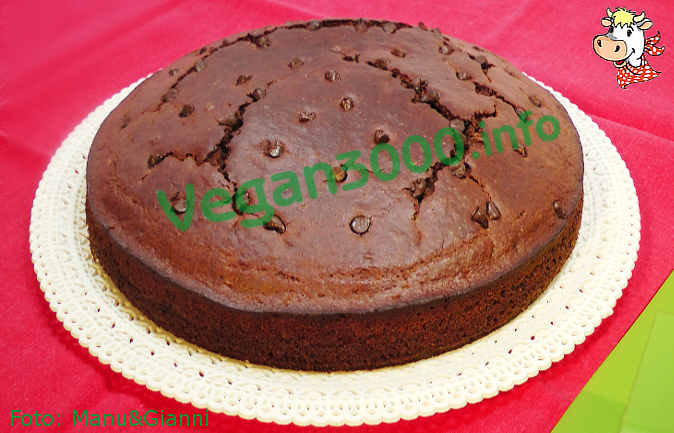 Disclaimer
This translation has been done by an automatic system, therefore we apologize if it isn't perfect. If you find any mistake or you have any suggestion for a better translation, please contact us.
Ingredients
350 g wholemeal flour
300 g of wheat malt
300 ml vanilla soy milk
6 tablespoons corn oil
6 tablespoons unsweetened cocoa powder
1 teaspoon cream of tartar
1 pinch of whole sea salt up
Instructions
Even today, after so many years, this delicious chocolate cake is prepared and enjoyed every time successfully in the company of friends!

Preheat the oven to 190° c.
In a bowl, sift and mix well the flour, cocoa and cream of tartar.
In another bowl mix milk, malt and oil.
Pour the dry components in the second bowl and mix well with a whisk, dissolving any lumps.
Grease a cake pan and pour in the batter, then bake for about 30-35 minutes in a hot oven.
---
---
---
---
---
Notes
Thanks to Emanuela Barbero, webmaster di Vegan3000 e autrice di libri di cucina vegan

NOTA: Questa ricetta in versione vegan è stata elaborata e scritta nel 2006 da Emanuela Barbero.
Nel 2009 la stessa ricetta è stata copiata e pubblicata letteralmente e illegittimamente da un'altra persona, senza alcuna autorizzazione, in un libro di ricette vegan per bambini successivamente oggetto di causa giudiziaria e per questo motivo oggi non più in commercio.
I giudici hanno verificato i fatti e riconosciuto il plagio a nostro danno e nel 2013 hanno emesso la sentenza di condanna per plagio-contraffazione disponendo la distruzione del libro pubblicato illegittimamente con il nostro lavoro (in tutto circa 170 ricette preparate e scritte da Emanuela Barbero); inoltre hanno condannato la persona che si è resa responsabile del plagio e il suo editore al risarcimento del danno e di tutte le spese legali, stabilendo una elevata penale per ogni singola violazione del divieto di produzione e vendita del libro oggetto di causa.
Nel 2014 la sentenza di primo grado è passata in giudicato, diventando definitiva (sentenza del Tribunale di Milano n. 12344/2013).
Ogni ulteriore violazione dei nostri diritti sarà perseguita a termini di legge.
Your comments
22 dicembre 2012: dato che non c'è stata la fine del mondo ;o) noi abbiamo riproposto ancora una volta questa favolosa ciocco-torta in occasione del festeggiamento in contemporanea di ben due compleanni! :o)
Anche questa volta è stata particolarmente apprezzata e per l'occasione l'ho servita con della panna montata vegan! ;o)
- Manu di Vegan3000 -
credo proprio che mi piacerà!!!
- marcella -
Have you tried these recipes?