Vegan Nutella with Thermomix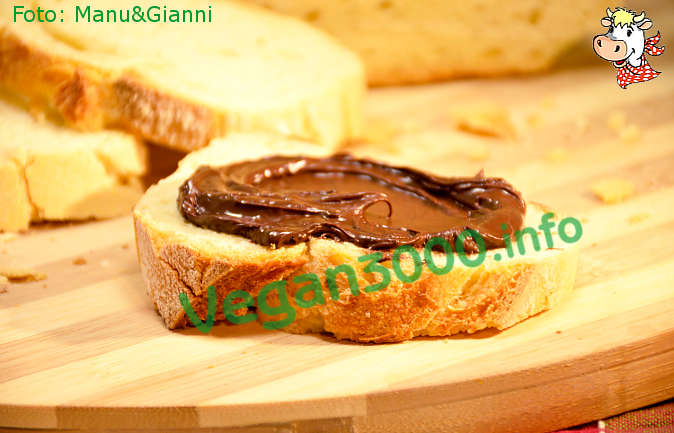 Disclaimer
This translation has been done by an automatic system, therefore we apologize if it isn't perfect. If you find any mistake or you have any suggestion for a better translation, please contact us.
Ingredients
80 g of hazelnuts, roasted and peeled
100 g dark chocolate
80 g sugar complete
130 g rice milk
Instructions
Pulverize the nuts and sugar in the bowl for 30 seconds at Turbo speed.
Combine the chocolate and lead to more 20 sec. at Turbo speed.
Add milk: 5 min. to 50° 4 speed.
Mix 1 min. at Turbo speed.
Immediately decant it in a jar, seal it and keep it in the fridge.
---
---
---
---
---
Notes
(Thanks to Chiara B.)
Your comments
Provatelaaaaaaaaaaaaaaaa ;) Io l'ho fatta perché essendo intollerante a latte non posso mangiare quella "normale". E' veramente buona, peccato che non l'ho scoperta prima!!!!!!!!!
- laura -
Buonissima!! Sostituito il latte di riso con il latte di soia!
- Chiara Pira -
Appena fatta! Ho sostituito però il latte di riso con quello di soia ma assicuro che è buonissima lo stesso! Fantastica ricetta!
- Angela -
Buonissima,... altro che Nutella Ferrero. Anche io ho messo il latte di soia, e mi piace che non ho dovuto aggiugere olio vegetale. Ottima
- Iviman -
Buonissima!! Di gran lunga migluore di quella industriale e molto più sana senza grassi aggiunti.appena fatta però è pericolosissima: rischi di mangiarla tutta subito cconservandone solo un goccio nel vasetto. Io però la faccio andare 15 min a 50º altrimenti rimane liquida
- viviana -
L'ho fatta con meno zucchero, sarà che a me piace un pò più amara, usando in totale 40 gr di canna. Ma quanto tempo è possibile conservarla?
- Fabio -
Veramente ottima
- anonimo -
Ottima!
- sara -
La più buona!
- Lisa -
mmmhhhh.....ho seguito tutto alla lettera tranne che ho utilizzato il latte di mandorla....forse per quello che mi è uscita straliquida e troppo dolce????...penso di si....comunque la base prima del latte era perfetta!!!
- sandy -
Ottima!ho usato latte di soia al cacao ..quanto tempo si può conservare?
- Ilaria gennaro -
È possibile farla senza il cioccolato?
- Ugo -
Quanto si può tenere in frigo?
- Paola -
Ugo, ma che nutella sarebbe senza cioccolato? :-)
- Lo staff di Vegan3000 -
Faibio, Ilaria, Paola... questa crema si conserva in frigo qualche giorno, in un barattolo chiuso.
- Lo staff di Vegan3000 -
Complimenti! Provata veramente ottima grazie per la squisita ricetta
- Gabry -