Choco-chia shot glasses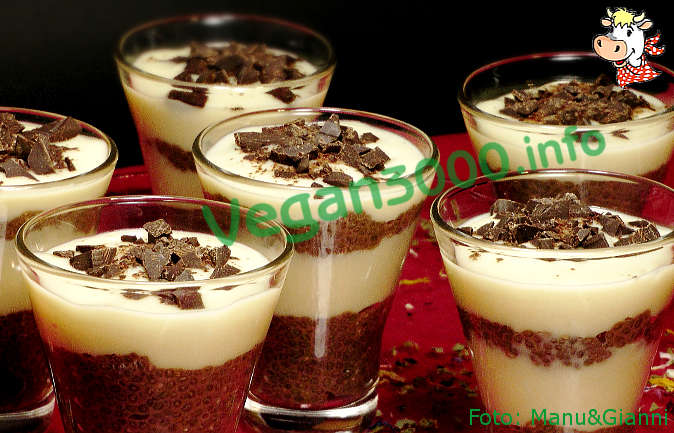 Disclaimer
This translation has been done by an automatic system, therefore we apologize if it isn't perfect. If you find any mistake or you have any suggestion for a better translation, please contact us.
Ingredients
For 6 shot glasses 11 cl
1 11 cl shot glass of chia seeds
3 shot glasses 11 oz rice milk (or soy or oat) to chocolate
2 tablespoons agave syrup
a few tablespoons custard
20 g of bitter chocolate flakes for garnish shorts
Instructions
On Vegan3000 could not miss the chocolatey version of chia ... namely this dessert choco-chia! : o)

Pour the chia in a glass container (with lid for sealing).
Add the chocolate milk plant, agave syrup and mix everything thoroughly.
If you don't have chocolate milk on hand you can prepare it at home from a vegetable of your choice which you add milk, stirring well, a couple of tablespoons of unsweetened cocoa powder (quantity per 4-6 cups).
Cover and refrigerate for several hours, until the liquid has absorbed completely chia.
Serve in small glasses alternating chocolate chia with custard, topped with chocolate flakes finally: ricavatele taking a bar of dark chocolate and using a potato peeler or a grater with large holes.
---
---
---
---
---
Notes
Thanks to Emanuela Barbero, webmaster of Vegan3000 and author of vegan cookbooks