Fantasy of mushrooms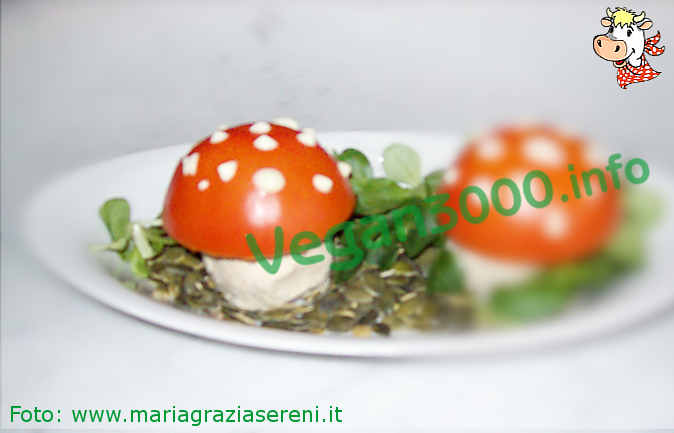 Disclaimer
This translation has been done by an automatic system, therefore we apologize if it isn't perfect. If you find any mistake or you have any suggestion for a better translation, please contact us.
Ingredients
For 2 people
200 g natural tofu
10 black olives
4 rusks integrals not sweet
1 pinch of basil powder
mayonnaise in tube
2 medium red round tomatoes
pumpkin seeds
Instructions
Cut the tofu into cubes and place in a bowl with the olives, basil and a pinch of salt.
Let it sit for half an hour.
Reduce powder melba toast, add tofu marinade and season with salt.
Pass on everything in the mixer.
Must be a very hard ball.
If it wasn't enough, add more grated rusks.
Prepare an oval plate on the bottom of which you will have pumpkin seeds so as to cover it.
With the mixture of tofu form a ball, then divide it in half and give both the shape of a mushroom stem, whose bottom must be flat to better comply with pumpkin seeds.
Cut the tomatoes in half horizontally, clean the round top seeds, wash it and dry it thoroughly.
Lay the two halves of tomatoes on their stems.
Put the composition onto a serving plate, then with the tube of mayonnaise to draw several spots on tomatoes, so that they look like mushroom caps.
If you want you can also garnish with sprigs of valerian.
---
---
---
---
---
Notes
Thanks to Mariagrazia Sereni - www.mariagraziasereni.it