Cabbage rolls with okara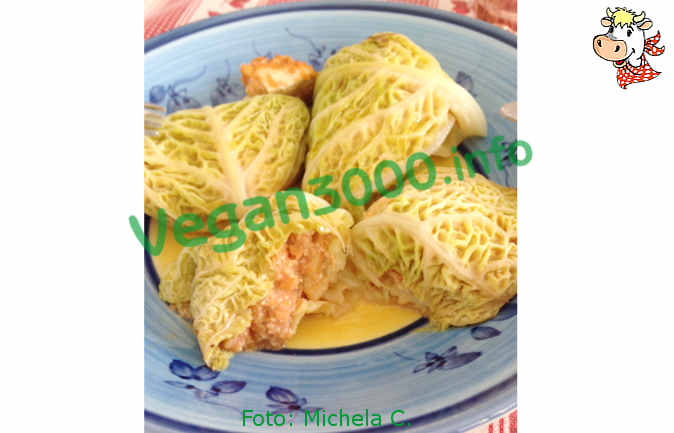 Disclaimer
This translation has been done by an automatic system, therefore we apologize if it isn't perfect. If you find any mistake or you have any suggestion for a better translation, please contact us.
Ingredients
To prepare the okara sauce for filling:
okara from preparation of soy milk
2 carrots
1 onion
2 sticks of celery
tomato puree
sage and rosemary
1/2 cup white wine
salt

For the spring rolls:
savoy cabbage leaves
a brick of tofu to the natural
extra virgin olive oil to taste
salt
Instructions
Prepare a mixture with carrots, celery and onion, do that wither with a little oil and water, add the okara, deglaze with wine.
Then add the tomato sauce, add salt and cook until the sauce doesn't dry out a bit.
Meanwhile scald the cabbage leaves for a few minutes in lightly salted water and dry them.
Take the sauce, add tofu and blend with an immersion blender.
Fill the cabbage leaves with the mixture and place in a lightly greased baking dish.
Bake at 180° C for 20 minutes, turn over the last 5 min the grill to brown the surface.
The more ideas: sprinkle the surface with the dough vegan or with a few spoonfuls of tomato puree.
---
---
---
---
---
Notes
Thanks to Michela C.