Azuki salad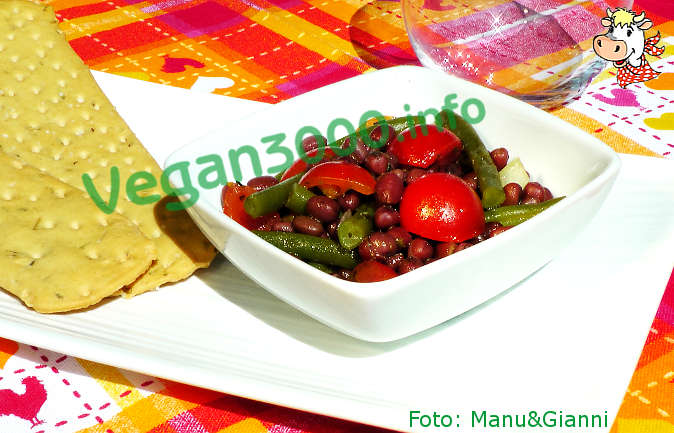 Disclaimer
This translation has been done by an automatic system, therefore we apologize if it isn't perfect. If you find any mistake or you have any suggestion for a better translation, please contact us.
Ingredients
For 4-6 people
500 g azuki beans
300 g of green beans
300 g cherry tomatoes
.25 red onion of Tropea
3 or 4 tablespoons extra virgin olive oil
1 tablespoon of apple cider vinegar
aromatic salt with herbs of Provence to taste

Optional ingredients
1 tablespoon of flaxseed oil
1 tablespoon pumpkin seed oil
1 tablespoon of balsamic vinegar
1 pinch of cayenne pepper

N.B. If you use the optional oils, reduce the amount of extra virgin olive oil (max 2 tablespoons)
Instructions
Cook the azuki for about an hour, then drain and rinse under cold water (for convenience you can cook them previously, in order to have them ready for use).
Pour into a large bowl and let cool.
Trim the green beans and cook steamed for about ten minutes.
When I'm still a little crunchy, pass them under cold water and add to azuki.
Cut into halves or quarters (depending on the size) tomatoes and sliced very thinly the onion, then add everything together in a bowl.
Season to taste and serve.
If you reply in the refrigerator and eaten within a few hours, this salad gets even more good.
---
---
---
---
---
Notes
This is a colorful and nutritious salad, particularly tasty when eaten fresh on a hot summer day.

Thanks to Emanuela Barbero, webmaster of Vegan3000 and author of vegan cookbooks