Cream of black carrots with lemon and ginger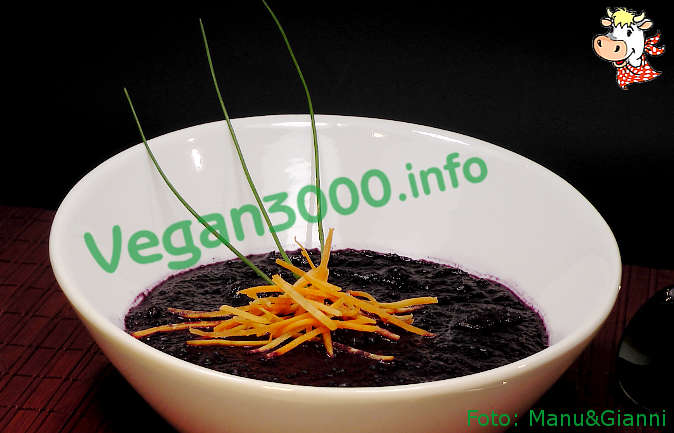 Disclaimer
This translation has been done by an automatic system, therefore we apologize if it isn't perfect. If you find any mistake or you have any suggestion for a better translation, please contact us.
Ingredients
For 4 people
10 black carrots
1 shallot
extra virgin olive oil
1/2 teaspoon of ginger powder or a tablespoon of chopped fresh ginger
1 teaspoon turmeric (optional)
3 tablespoons chickpea flakes
aromatic salt

To serve:
1 organic Lemon (zest + juice)
chives
fresh julienne carrot Orange
Instructions
This cream flavoured with lemon and ginger is an elegant and refined dish, suitable for special occasions.
Peel carrots and cut them into chunks.
Chop the shallot and Fry lightly in olive oil, then add the ginger and turmeric.
Add the carrots into small pieces and cover with about one liter of water (the amount of fluid also varies according to the density that would attract).
When it begins to simmer, season with salt and add chickpea flakes, stir and cook on low heat for about 30 minutes.
When carrots are cooked, remove from the heat and reduce everything to a smooth with an immersion blender.
Serve and garnish each plate with about a teaspoon of lemon juice, 1/2 teaspoon zest, some chives and a tablespoon of orange carrot cut into julienne strips to create a pleasing visual contrast.
---
---
---
---
---
Notes
Thanks to Emanuela Barbero, webmaster di Vegan3000 e autrice di libri di cucina vegan