Couscous cake with pineapple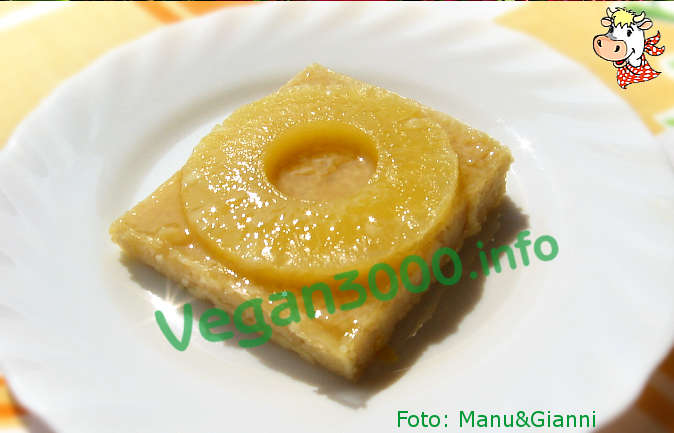 Disclaimer
This translation has been done by an automatic system, therefore we apologize if it isn't perfect. If you find any mistake or you have any suggestion for a better translation, please contact us.
Ingredients
250 g of couscous profilee
400 ml pineapple juice
Peel of 1 lemon rind
1 teaspoon agar agar powder
1 tablespoon corn oil
1 pinch of salt
For coverage
1 pineapple cleaned, cut into thick slices about 1/2 cm and private core material
100 ml pineapple juice
1/4 teaspoon agar agar powder
Instructions
In a small saucepan, make heat the pineapple juice with a pinch of salt and agar agar.
Stir and bring to a boil.
Add the couscous and stir several minutes until the couscous is thickened, remove from the heat, add the grated lemon peel and mix again.
Grease a baking sheet with a thin layer of corn oil, pour the couscous is still hot and smooth it down carefully using the back of a spoon.
Cover with slices of pineapple arranged next to each other.

Prepare the vegetable jelly of coverage making heat on the heat a saucepan with about 1/2 cup (100 ml) pineapple juice 1/4 cold to which you have added teaspoon agar agar and comfortable bedrooms.
Stir until boil and then let the fire still 2 minutes, stirring constantly.
Let cool slightly in the mixture (but be careful not to let it get cold otherwise solidifies), then pour gently over the couscous cake using a spoon and covering it well.
---
---
---
---
---
Notes
Thanks to Emanuela Barbero, webmaster di Vegan3000 e autrice di libri di cucina vegan

Ricetta pubblicata nel libro "La Cucina Diet_Etica" di Emanuela Barbero e Luciana Baroni, edizioni Sonda