Mr Vegan Potato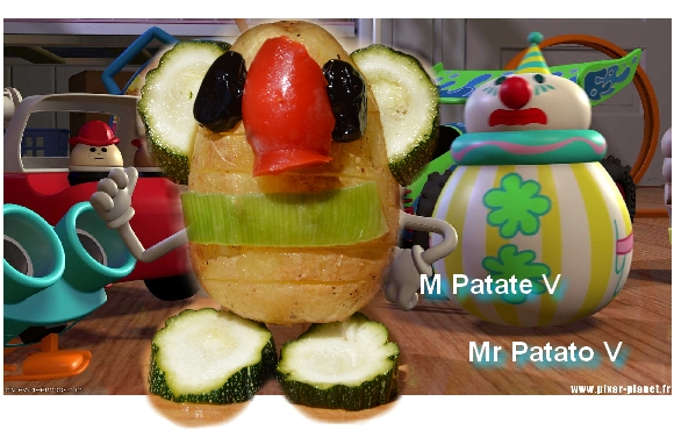 Disclaimer
This translation has been done by an automatic system, therefore we apologize if it isn't perfect. If you find any mistake or you have any suggestion for a better translation, please contact us.
Ingredients
For each portion
1 potato (for body)
4 slices of zucchini (for ears and feet)
2 black olives (for eyes)
1 piece of red pepper (for the nose)
1 piece of Leek (moustache)

Need some toothpicks to keep everything together
Instructions
This is a special recipe for children to celebrate the return to school!


For body: wash the potatoes and boil in their skins.
For the ears and the feet: a zucchini blanched slightly small.
The nose: blanched briefly a stratum of pepper.
For hair: wash and blanch a piece of leek.
Compose Mr. Vegan Patato using toothpicks (even broken) to hold together the various pieces.
---
---
---
---
---
Notes
Thanks to Zérogluten VéganBrest MJ Allenbach

Fonte: http://0-gluten-vege-brest.weebly.com/vegan-sg-monde--vegan-gf-world/m-patate-vegan-a-linfini-et-au-dela-_-mr-potato-vegan-to-infinity-and-beyond