Lasagna with pumpkin, raisins and rosemary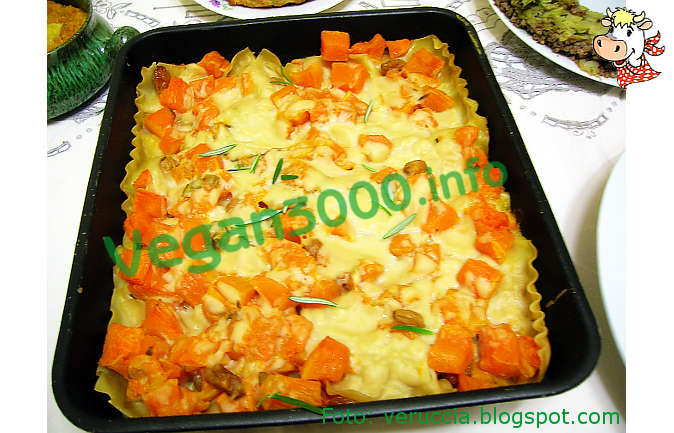 Disclaimer
This translation has been done by an automatic system, therefore we apologize if it isn't perfect. If you find any mistake or you have any suggestion for a better translation, please contact us.
Ingredients
For 8 people
vegan lasagna 500 g
1.5 kg of pumpkin clean
1 red onion, chopped
45 g raisins
White Sauce
1 teaspoon of salt
1 sprig of rosemary
1 tablespoon of extra virgin olive oil
Instructions
Cut the pumpkin into cubes and put on baking paper, for 20 minutes at 180° c.
In a saucepan, sauté the onion, rosemary, salt, raisins, rinsed under the tap and after 2 minutes add the pumpkin.
Outdoor pot cook until everything is soft.
Arrange the lasagne (check on the packaging if you have to cook them first in boiling water) in a baking dish, cover with pumpkin, white sauce and alternate layers ending with pumpkin.
Bake for 30 minutes at 200° c.

---
---
---
---
---
Notes
Thanks to Vera Ferraiuolo - veruccia.blogspot.com
Have you tried these recipes?