Vegan tiger nut cake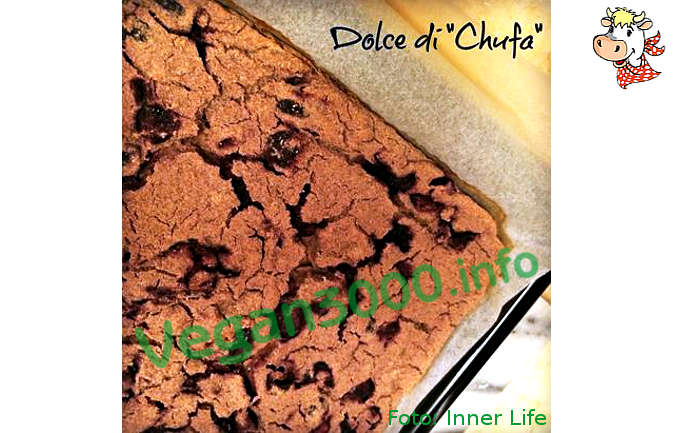 Disclaimer
This translation has been done by an automatic system, therefore we apologize if it isn't perfect. If you find any mistake or you have any suggestion for a better translation, please contact us.
Ingredients
250 g of flour of chufa
50 g almond flour
2 tablespoons of organic rice
2 tablespoons agave syrup or maple syrup (optional)
1 teaspoon ground ginger
1 teaspoon fresh ginger or in juice
250 g of blackberries or raisins
water
Instructions
The tiger nut is a tuber native to Spain rich in oleic acid, a monounsaturated fatty acid from beneficial properties.
The tiger nut flour has almost 25 grams of fatty acids on 100 of product!
It is also rich in fiber, minerals, proteins and vitamins; Besides having diuretic properties for low sodium content is also naturally gluten-free.
And it's delicious! It tastes sweet to nutty with a hint of dried fruit, vegetable and cereal milk can be added to start your day in an alternative way, or to prepare a healthy and tasty Christmas cake: try the recipe you see below!
Pour into a pan and flour based chufa almond flour, blackberries or raisins, 2 tablespoons of rice oil and agave syrup (the latter only if you want to have an end result sweeter).
Grated fresh ginger (or 1 tablespoon ginger juice) and add it along with a teaspoon of ginger powder.
Place the pot on the stove and heat starts to pour some water.
Turns with a ladle, continue adding water until all the flour and fruit did not mix well.
Once you have a smooth pour it on a baking sheet covered with parchment paper.
Spread the mixture to obtain a homogeneous form and bake in a preheated oven at 170° C for 40 minutes.
The result should be similar to castagnaccio (typical cake made with chestnut flour), the cake will be soft and compact.
---
---
---
---
---
Notes
Thanks to Inner Life