Vegan rice arancini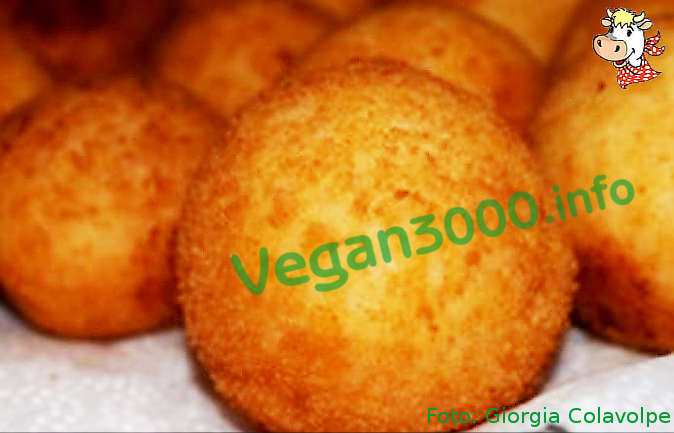 Disclaimer
This translation has been done by an automatic system, therefore we apologize if it isn't perfect. If you find any mistake or you have any suggestion for a better translation, please contact us.
Ingredients
For 4 people
500 g of white rice
2 small sachets of saffron
salt to taste
1 tablespoon extra virgin olive oil
1 onion
1 carrot
1 stalk of celery
1 can of peeled tomato laurel
garlic olive oil
sunflower or corn oil for frying

For the topping:
flour qb
water qb
breadcrumbs qb
Instructions
Boil the rice with 1.5 parts of salt water and towards the end of cooking add the saffron so that when cooked the water is all absorbed.
Add the tablespoon of olive oil that will prevent the rice from sticking.
Let it cool completely.
For the ragout of vegetables: saute garlic, finely chopped onion, celery and carrot in hot oil. Add the can of peeled tomatoes.
Season with salt and pepper, add bay leaf and cook for 30 minutes over medium heat until it tightens. Leave to cool.
Take a bowl with water to keep in hand to wet your hands while you assemble the arancini.
With wet hands, take the cold rice, formed a thin, crushing it into the palm of your hand and add a tablespoon of sauce into a recess total values pushing rice.
Close with another thin layer of rice and shaped depending on the form chosen, a ball or a cone.
Beat with a whisk flour and water to form a batter not too runny.
Passed the arancini into the batter and then in bread crumbs, then fry in hot oil, taking care not to let them brown.
---
---
---
---
---
Notes
Thanks to Giorgia Colavolpe - https://www.facebook.com/giorgiacolavolpe