Quick tiramisu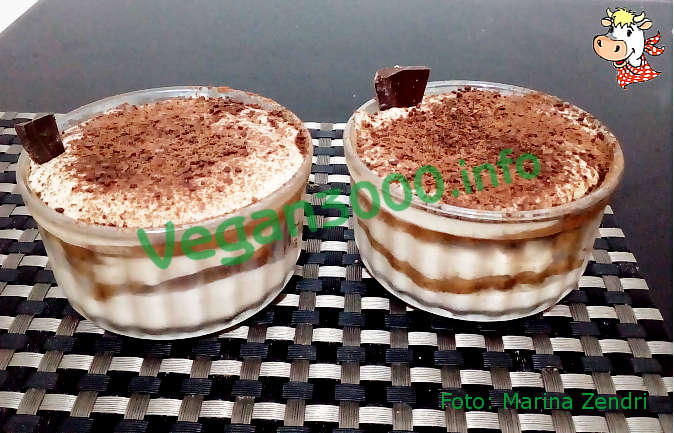 Disclaimer
This translation has been done by an automatic system, therefore we apologize if it isn't perfect. If you find any mistake or you have any suggestion for a better translation, please contact us.
Ingredients
250 ml rice milk
2 tablespoons potato starch or cornstarch
a pinch of vanillin
a pinch of salt
200 g vegan cream (soy or coconut)
10-12 vegan cookies, digestive type
2 cups of hot coffee, sweetened
2 tablespoons marsala (check it without eggs!!)
cocoa powder
shavings of dark chocolate or coffee beans
Instructions
Mix the potato starch in a saucepan with the vanilla and a pinch of salt, add rice milk a little at a time, so that no lumps are formed (possibly blend with hand blender), bring to a boil and thicken, stirring, a few minutes .
Turn off and pour into a shallow dish so that it cools quickly.
Whip the cream and add it to the cooled custard, stirring slowly, so it doesn't go runny.
Add the marsala to the hot coffee sweetened.
Composition: take cups (preferably transparent so you can see the layers), put on the bottom a spoonful of cream, a biscuit soaked in coffee, more generous layer of cream, cocoa powder and chocolate chips, repeat for another layer, finish with cream, cocoa and garnish with chocolate shavings or coffee beans.
---
---
---
---
---
Notes
Thanks to Marina Zendri
Have you tried these recipes?