Chocolate cake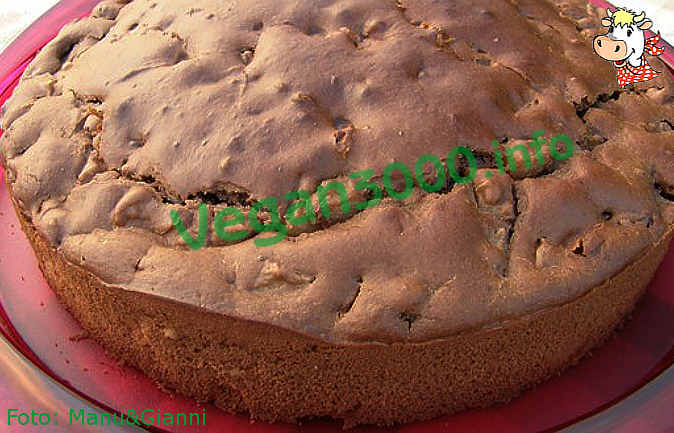 Disclaimer
This translation has been done by an automatic system, therefore we apologize if it isn't perfect. If you find any mistake or you have any suggestion for a better translation, please contact us.
Ingredients
200 g flour-1/2 sachet baking powder-1/2 teaspoon baking soda-6 teaspoons unsweetened cocoa powder-60 g sugar-60 g margarine-60 grams of malt-1 teaspoon of white vinegar-180 grams of soy milk
Crankset: icing sugar-chocolate, grated
Instructions
Soften and carefully mix the margarine with the sugar and malt. Aside from Mix flour, baking powder, cocoa, baking soda and add them to the previous mixture, milk, at the same time carefully so as to avoid the formation of lumps. Add vinegar. Pour the mixture into a baking cakes low and wide, previously greased with margarine (the cake rises doubling its height during cooking). Cook for about 20 minutes in the oven at 150 degrees. Finally garnish with powdered sugar and chocolate, grated.
---
---
---
---
---
Your comments
Io invece del cacao metto un quadratone di cioccolato fondente sciolto a bagnomaria (sarebbe un dodicesimo delle mega-tavolette che pesano un chilo). Alla fine, quando la porto in tavola, dico sempre: E più cioccolato che torta.... Ma nessuno si è mai lamentato. Buon appetito!
- Silvia -
Ho aggiunto nell'impasto (alla fine) una tazzina da caffe' di uvetta (abbondante) e due cucchiai di pinoli precedentemente ammorbiditi nel latte di soia. Inoltre ho aggiunto al latte di soia 4 cucchiai di panna di soia. L'ho guarnita con cioccolata (vedi ricetta Torta Sacher 3). Ho usato una teglia di 27 cm di diametro. E' venuta perfetta! Non ho messo l'aceto, per dimenticanza!
- Dora -
buonissima ...... quando sono diventata vegana mia mamma mi ha detto "farai la fame", con questa torta si è ricreduta!!
- eleonora -
la torta e` in forno, io non sono vegana, ma ho una amica che lo e`, e dato che l`ho invitata a cena mi sono ingegnata!!! Spero che sia tanto buona quanto il profumino che esce dal forno...
- Cristina -
prima di infornare ho aggiunto all'impasto del cioccolato fondente a pezzi!! E alla fine, una volta che la torta era fredda, l'ho tagliata e farcita con marmellata di mirtilli................BUONISSIMISSIMA!!
- Vale -
una pera (piccola) frullata e un po' di rhum nell'impasto: da paura!
- cheeka -
tra poco arriva il mio ragazzo e l'assaggiamo! ho modificato un pochino gli ingredienti: ho sostituito parte della farina con fecola di patate. ho messo l'uvetta. speriamo sia buona!
- valentina -
Alla ricetta della torta al cooccolato, per me, vanno aggiunti sicuramente i pinoli!!!
- Alissa -
Provata come da ricetta originale ma anche se è venuta soffice e gradevole nell'aspetto, non ha avuto l'approvazione della famiglia.Ciao
- Dani -
L'ha preparata la mia piccola per la festa del papà ed era decisamente buona e soffice (anche senza il malto e l'aceto)
- Paola -
io ho apportato alcuni cambiamenti: latte di riso, farina di riso, pezzetti di cioccolato fondente nella torta, un po' di cannella...decisamente gustosa!!!
- Erica -
a volte aggiungo la buccia di un'arancio grattuggiato oppure buccia di limone e zenzero fresco grattuggiato. a volte preparo due e farcisco con marmellata di albicocche. buonissima!!
- Petra -
Io la uso come base per la sacher!! E' fantastica!!!
- Letizia -
cioccolato...sempre e comunque buono...
- A -
Have you tried these recipes?