Aloo Palak (Indian style spinach and potato curry)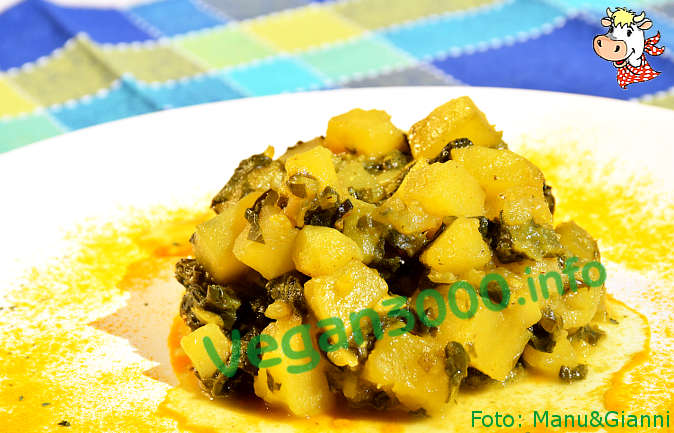 Disclaimer
This translation has been done by an automatic system, therefore we apologize if it isn't perfect. If you find any mistake or you have any suggestion for a better translation, please contact us.
Ingredients
For 4-6 people
500 g of potatoes
500 g spinach
1 large onion
2 cloves garlic
1 teaspoon fresh minced ginger
2 teaspoons curry powder
1 teaspoon turmeric powder
1 teaspoon cumin (seeds or powder)
1 tsp ground coriander
vegetable oil
salt
Instructions
The Aloo Palak is a traditional Indian recipe, that is a spicy and very fragrant potato and spinach curry.

Peel the potatoes and cut into cubes.
Wash the spinach and salt into thin strips.
Peel the onion and garlic and chop along with ginger.
Pour a little oil in a pan and sauté the chopped onion, garlic and ginger for a few minutes.
Add the curry powder, turmeric, cumin, coriander and stir.
Leave on the heat for a couple of minutes, stirring carefully so that you can blend all the flavors.
Add the potatoes and spinach, add salt, add a glass of water, stir and cook with the lid on for about 20 minutes, stirring occasionally and making sure that it does not stick to the bottom.
Add more water gradually is absorbed during cooking.
The dish is ready when the potatoes have become soft and spinach are almost completely undone.
---
---
---
---
---
Notes
Thanks to Emanuela Barbero, webmaster di Vegan3000 e autrice di libri di cucina vegan

Your comments
Davvero un piatto molto buono.
- Giorgia -
Io metto anche lo yogurt. Di soia. Così me l'hanno spiegato al ristorante indiano (loro però usano yogurt normale).
- Giorgio -
Ciao Giorgio. Lo yogurt (ovviamente vegetale) non è indispensabile ma darà sicuramente più cremosità a questo piatto. Grazie per il tuo suggerimento! :-)
- Manu di Vegan3000 -
Have you tried these recipes?