Grape pie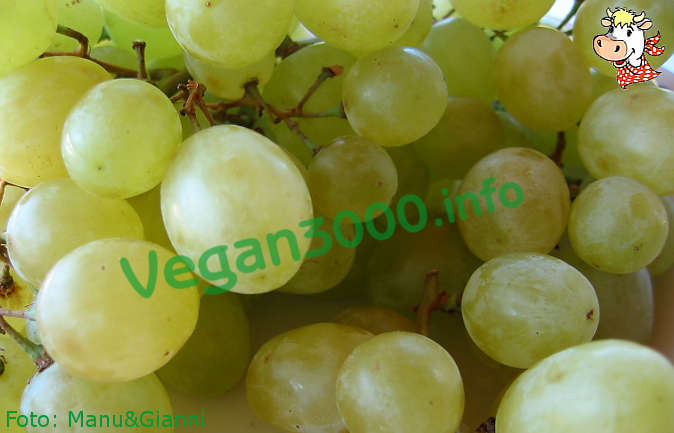 Disclaimer
This translation has been done by an automatic system, therefore we apologize if it isn't perfect. If you find any mistake or you have any suggestion for a better translation, please contact us.
Ingredients
For 8 people: 500 g of bread dough (bought by Baker)-800 g black grapes of vine-4 tablespoons sugar-2 Tablespoons extra virgin olive oil
Instructions
1) lay the dough on the work surface, add oil and knead for a few minutes. Cover with a dish towel and let rest in a warm place for about an hour.
2) wash the grapes, take your berries and dry them on paper towels.
3) roll out half of dough with a rolling pin and place it in a baking dish with a diameter of 28 cm lightly oiled.
4) keep aside a handful of grapes, distribute the others on the dough placed in the Pan leaving a border of 1 cm. Sprinkle with two tablespoons of sugar.
5) make another disc with the other half of the dough and cover the base of crushed by pinching the edges to close it.
6) prick the surface with the prongs of a fork; brush with a little oil; Sprinkle with two tablespoons of sugar and distribute with the grapes were.
7) Bake at 200° for about an hour and serve warm or cold.
---
---
---
---
---
Notes
(Thanks to Giancarlo C.)
Your comments
FORSE SAREBBE MEGLIO FARSI DA SE LA PASTA METTENDO QUALCHE CUCCHIAIO D'OLIO IN PIU'......
- MARA -
questa sera voglio provare a farla, poi vi dir?....
- isabella -
io, non solo buco la pasta con i rebbi della forchetta, ma cerco di schiacciare parte dell'l'uva facendo pressione con i pugni delle mani....cos? facendo , a me sembra migliore! provate e buon appetito....
- Sonia -
se volete gustare la vera schiacciata con l'uva.. andate a Vitolini (Vinci) alla sagra della schiacciata con l'uva a Settembre.
- Anna -