Sweet and sour onions (1)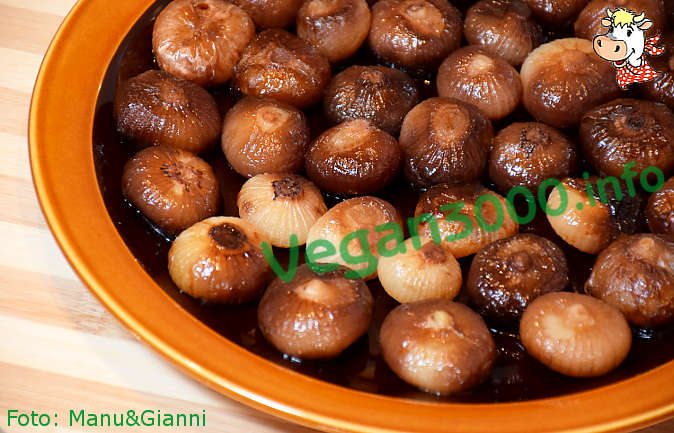 Disclaimer
This translation has been done by an automatic system, therefore we apologize if it isn't perfect. If you find any mistake or you have any suggestion for a better translation, please contact us.
Ingredients
For 4 four persons: 800 gr of onions-3 tablespoons of white vinegar-1/2 tablespoon sugar-1 vegetable stock cube-extra virgin olive oil-Salt
Instructions
1) Dipping the onions for 1 minute in boiling water, drain and put them immediately in cold water and drain. Remove the outer skin, then cut off the top and roots.
2) place them in a pan that contains in a single layer and sprinkle with sugar and cover with hot water in which you have melted the nut. Add vinegar, salt and a little oil. Cover and cook on low heat until the onions will keep but not overcooked (should take about 45 minutes). The cooking liquid must be quite thick and syrupy. If he had remained too fluid, dry heat leaving the Pan uncovered.
---
---
---
---
---
Notes
(Thanks to Giancarlo C.)