Grilled eggplant rolls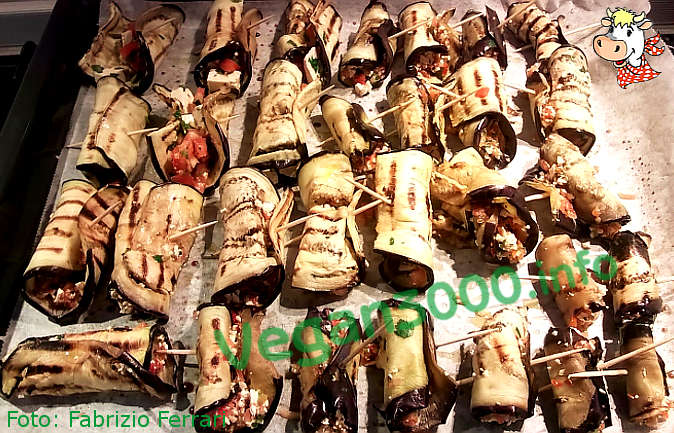 Disclaimer
This translation has been done by an automatic system, therefore we apologize if it isn't perfect. If you find any mistake or you have any suggestion for a better translation, please contact us.
Ingredients
For 4 people: 2 aubergines-200 grams of tofu-2 tomatoes-chopped-pepper-1 bunch of parsley 1 2 minced cloves of garlic-olive oil-salt-pepper
Instructions
Wash the aubergines, remove the ends and cut them lengthwise into thin slices.
Cook for a few minutes on a hot grill on both sides.
Meanwhile, mix in a bowl the diced tofu, tomatoes and chopped bell pepper, parsley and garlic, salt, pepper and oil.
Spread the mixture on the slices of eggplant, roll, add a drizzle of olive oil and bake for about 15 minutes.
---
---
---
---
---
Your comments
Ciao! Ottime in questa versione! Le proverò! La mia versione prevede il seitan al posto del tofu, pangrattato aglio e prezzemolo, sale e pepe. In superficie pangrattato e un cucchiaio di salsa condita con olio all'aglio, origano sale. Infine passate in forno
- Mamytvb -
Yummm!!! e brava Mamytvb!! :-)
- Marina -