Samosas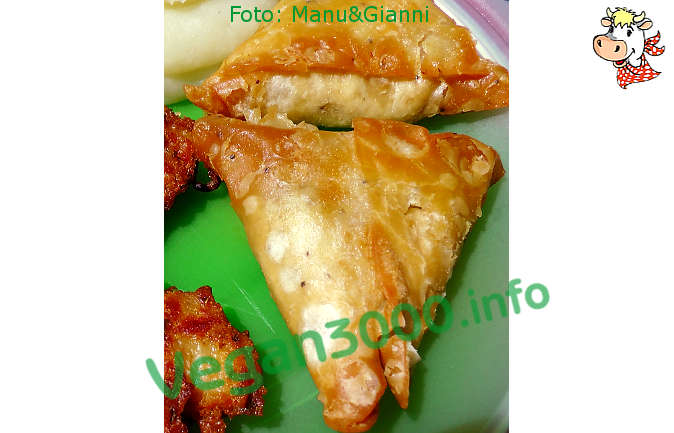 Disclaimer
This translation has been done by an automatic system, therefore we apologize if it isn't perfect. If you find any mistake or you have any suggestion for a better translation, please contact us.
Ingredients
For 15 samosas: 110 grams of frozen puff pastry, thawed 1 chopped potato-1-tablespoon peas-35 g of cauliflower, carrots and cabbage, chopped 1 tablespoon chopped coriander leaves--.5 TSP grated fresh ginger (ginger) .5-2 cloves of garlic thinly-sliced onion-.5 TSP green chili-.25 TSP turmeric-1 tsp garam masala -1 or 2 teaspoons of oil-Salt-lemon or lime juice-1 lemon or lime
Instructions
Start by boiling some water in a pot and then pour on potatoes and other vegetables. Boil for a few minutes until they are almost cooked, then drain and transfer to a container.
Add to vegetables coriander, ginger, onion, garlic, chili, turmeric, garam masala, lemon juice, oil, salt and pepper.
Cut the dough into strips of 10 x 15 cm and riempitene the Center with the mixture previously prepared.
Bent then each sheet giving the shape of triangles and glue the corners with a little water.
At this point Preheat 5 cm oil in a deep frying pan and cook the samosas for a few minutes until they are golden brown.
Serve hot and garnish with slices of lemon or lime.
---
---
---
---
---
Notes
Ricetta tratta da "Cucina vegetariana", ed. Sonda, Torino, 1993.

(Thanks to Alessandro Cattelan per la segnalazione)