Tasty quiche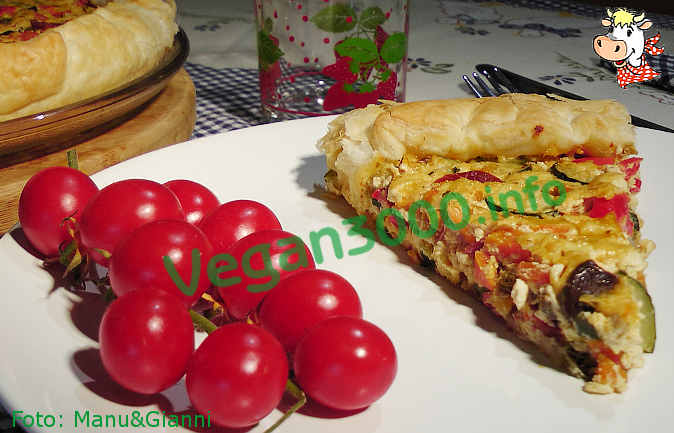 Disclaimer
This translation has been done by an automatic system, therefore we apologize if it isn't perfect. If you find any mistake or you have any suggestion for a better translation, please contact us.
Ingredients
For 4 people:
250 g of puff pastry vegan
200 g of tofu
200 ml soy cream
1 onion
2 carrots
2 Zucchini
1 tablespoon salted capers
1 tablespoon fresh minced ginger
2 tablespoons soy sauce
2 Tablespoons extra virgin olive oil
3 tablespoons sesame seeds
Instructions
While you prepare the pie, preheat the oven to 200° c.
After having rinsed under running water, chop the capers very finely and then do the same with a piece of ginger.
Coarsely and separately the onion, carrots and zucchini.
Mash the tofu with a fork.
In a pan, soften the onion in hot oil, then add the carrots, stir well and simmer with lid on low heat for about 15 minutes.
Stir occasionally and if necessary add a few tablespoons of water.
Add the courgettes and crumbled tofu, the soy sauce, the chopped capers and ginger.
Stir well and cook for another 10 minutes.
Towards the end of cooking, pour the soy cream and stir, letting dry thoroughly.
Roll out the puff pastry on a baking sheet using the special wax paper why not attacks.
Make edges all around and set aside a couple of strips of puff pastry that you have then on the surface.
Prick the pastry with a fork and sprinkle with freshly prepared vegetables.
Arranged diagonally across the surface of the pastry strips kept aside and sprinkle with sesame seeds before baking in a very hot oven.
Cook for about 20 minutes and serve.
---
---
---
---
---
Notes
Thanks to Emanuela Barbero, webmaster di Vegan3000 e autrice di libri di cucina vegan