Curried chickpeas and vegetables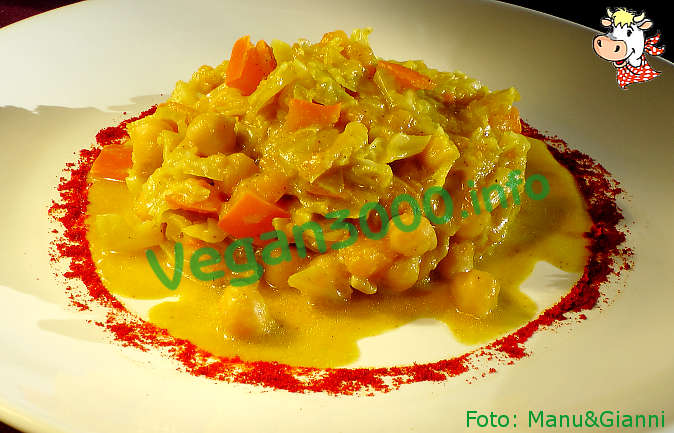 Disclaimer
This translation has been done by an automatic system, therefore we apologize if it isn't perfect. If you find any mistake or you have any suggestion for a better translation, please contact us.
Ingredients
For 4 people:
300 g pumpkin
3 Zucchini
200 g of chickpeas, canned
200 g baby spinach salad
1 tablespoon curry powder
2 dl coconut milk
4 tablespoons of extra virgin olive oil
Salt
Instructions
Peel the pumpkin, remove the peel and seeds and cut first and then sliced into chunks.
Wash the spinach and drain them.
Trim the courgettes, practiced some vertical incision with a wilsen and cut into slices of about 2 cm on the bias.
Heat the olive oil in a pan, add the curry and let it roast for a few seconds on medium heat.
Add the pumpkin and courgettes and FRY for a few minutes over high heat, stirring.
Season with salt, add the coconut milk and mix well.
Cover the pan with a lid and cook on medium heat for 10 minutes.
Add the chickpeas, drained from the liquid and continue cooking for 5 minutes.
Add the spinach, raise the heat and cook for 2-3 minutes, stirring, until they begin to wilt.
Stir with a wooden spoon to mix all the ingredients, season with salt and serve.
---
---
---
---
---
Notes
(Thanks to Claudia C.)