Colomba - Easter cake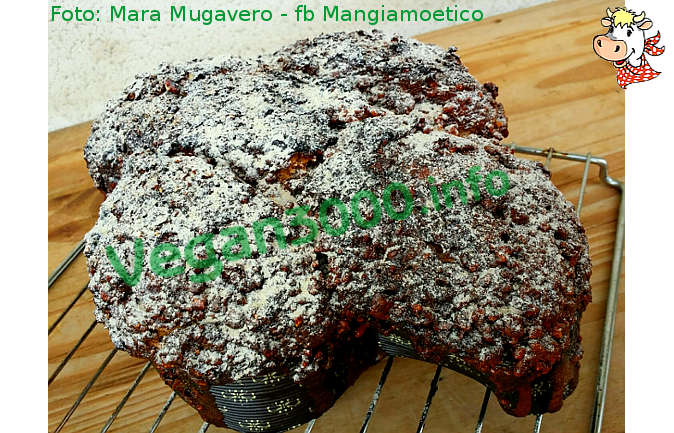 Disclaimer
This translation has been done by an automatic system, therefore we apologize if it isn't perfect. If you find any mistake or you have any suggestion for a better translation, please contact us.
Ingredients
For the dough:
600 g flour manitoba
25 g of yeast
250 grams of margarine
2 tablespoons cornstarch
150 g brown sugar
grated rind of 1 lemon
1 pinch of salt
100 ml of warm soy milk
1 vial of lemon flavoring (optional)
1 teaspoon of vanilla extract
100 g candied fruit or raisins, or 150 grams of chocolate drops

For the frosting:
1 large handful of peeled almonds and hazelnuts
2 tablespoons brown sugar
2-3 tablespoons barley malt syrup or maple syrup

For decoration:
granulated sugar and almonds
Instructions
Mix 60 g flour with the yeast dissolved in a finger of warm water, take a stick and put it to rise covered in a bowl.
When it has doubled in volume, remove from the bowl and put in 540 grams of flour, 100 grams of margarine, diced and at room temperature, sugar, grated lemon rind, salt, milk, yeast, vanilla and knead the dough for at least 10 min, vigorously, opening the dough with your hands, stropicciandola, until it forms a smooth ball that doesn't stick to your hands.
Put it back in the bowl and let rise overnight.
In the morning remove the margarine from the fridge (150 gr) leave it at room temperature and add it to the mixture into small pieces, add also the candies or whatever you prefer and work the dough for a while.
Spread the dough into a mold for the Colomba, I used paper ones, dividing the dough into three parts, one for the body and two wings, let it rise again.
Prepare the glaze: chop a handful of peeled almonds and hazelnuts in the mixer with the sugar and a drop of water, 2/3 tablespoons barley malt syrup or maple syrup.
Spread the frosting on the dove, decorated with granulated sugar and almonds.
Bake at 190° C for 1 hour.
If the glaze tends to darken too much cover with aluminum foil.
---
---
---
---
---
Notes
(Thanks to Verdesperanza)