Carrot muffins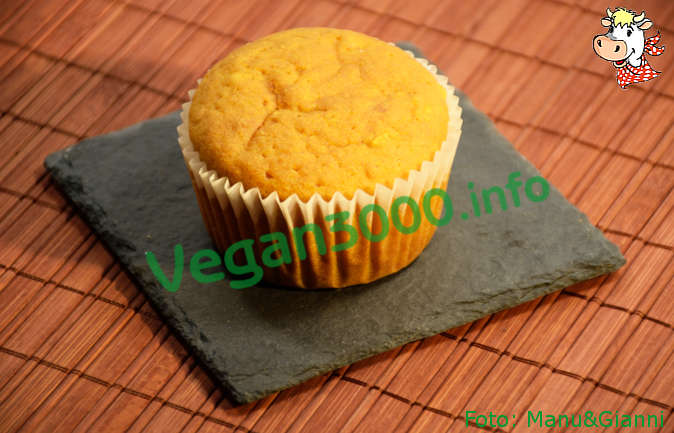 Disclaimer
This translation has been done by an automatic system, therefore we apologize if it isn't perfect. If you find any mistake or you have any suggestion for a better translation, please contact us.
Ingredients
250 g carrots
150 g wholemeal flour
100 g hazelnuts
2 tablespoons malt extract or molasses
rice milk to taste.
1 sachet of baking powder
1 pinch of cinnamon
1 pinch of salt
Instructions
Finely grate the carrots and add all the ingredients, mixing thoroughly.
Oiled 8 ramekins and pour the dough filling them in half.
Bake at 180° C for about 20-25 minutes.
---
---
---
---
---
Notes
(Fonte: Lumen, maggio 2006 - Rielaborata successivamente a cura di Vegan3000 seguendo i consigli dei visitatori del sito)

Your comments
finalmente ho trovato il sito per fare dei dolci senza uova!!! siete grandi!!!
- antonella -
come fa a compattarsi il tutto senza nessun ingrediente liquido? Io ho aggiunto del latte di soia, ma ho avuto problemi con la lievitazione..così li ho farciti di marmellata per renderli più gradevoli ed attenuare l'effetto "mattoncino".
- giusy -
Secondo me la ricetta è incompleta: impossibile che non ci sia NIENTE DI LIQUIDO!!!! Io ho aggiunto 1 bicchiere di latte di soia e 25 gr di margarina Provamel, e sono venuti bene...
- Antaress -
io li impasto con il the kuchika... vengono buoni...
- silvia -
l'impasto e troppo asciutto. ho dovuto aggiungere del latte di riso, ho sostituito il malto con agave nectar. Poi ho alzato il forno a 180 ° perche dentro rimanevano sempre gommosi. E meglio se si corregge la ricetta.
- zori -
Fatto! :o)
- Lo staff di Vegan3000 -
non ci siamo ancora secondo me...la quantità del latte deve essere specificata meglio, e come faccio a sapere come deve risultare l'impasto?.Io li ho fatti seguendo la ricetta ma risultano un po'secchi esternamente e un po' umidi internamente...ancora effetto mattoncino:-(
- antonella -
Io volevo sapere una cosa.. ma le nocciole devono esser tritate? Io ho trovato quelle intere e le ho ridotte in polvere..Se aggiungo questo al fatto che le carote grattuggiate erano bagnate ( e quindi si è formata una specie di pasta con le carote) non c'è da stupirsi che non mi siano venuti!
- Simo -
Si può utilizzare il latte di avena?
- Barbara -
@ Barbara: sì, va bene anche il latte di avena, ma in quel caso i muffin resteranno meno dolci.
- Lo staff di Vegan3000 -