Vegan tiramisu (3)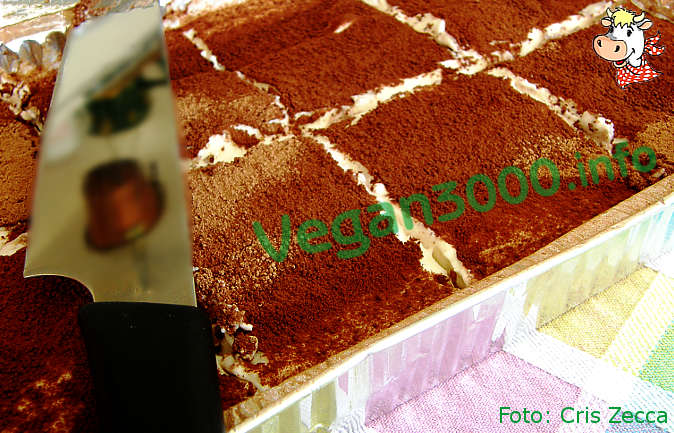 Disclaimer
This translation has been done by an automatic system, therefore we apologize if it isn't perfect. If you find any mistake or you have any suggestion for a better translation, please contact us.
Ingredients
300 g biscuits (vegan and plates)
6 cups filled with coffee (espresso or Mocha)
1 Pack (dose for 4 servings) of powdered vanilla soy pudding (or see recipe vanilla soy Pudding)
soy milk (for the amount, follow the instructions of the pudding)
brown sugar to taste.
1 pack of whipping cream "name: Soyatoo"
1 tablespoon rum
4 tablespoons unsweetened cocoa powder
Instructions
First you need to prepare the pudding, that should solidify. Wanting can be prepared the day before. Follow the instructions on the package using soy milk or prepare it at home following the recipe of vanilla soy pudding. Usually it takes at least a couple of hours because it solidifies.
Arrange in a baking pan or a baking dish (it is easier if square shape-rectangular) a layer of biscuits.
Moisten evenly, using a spoon, with half of the coffee.
Repeat with a second layer of biscuits placed above the first layer is impregnated with both did him so that coffee, but not drowned.
Now whip cream (after cooling of a couple of hours) with an electric whisk at full speed. Must be "frothy".
Always with the whips, but at minimum speed, incorporate gradually the pudding.
Then add a tablespoon of rum and adjust sugar according to your taste. Mix well.
Distribute the mixture into the baking dish over the layers of cookies with.
Withdraw in refrigerator, at least a couple of hours.
Before serving, sprinkle the surface with the cocoa powder with the help of a pass, a spread-sugar or a colander.
---
---
---
---
---
Notes
(Thanks to Lia di Oltre La Specie)
Have you tried these recipes?