Tofu and spinach ravioli with tomato sauce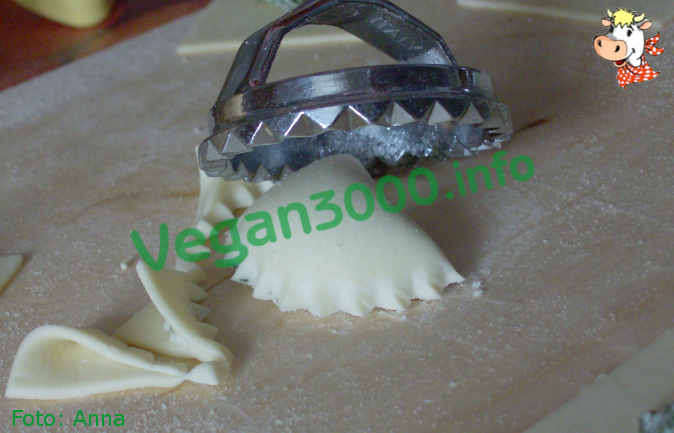 Disclaimer
This translation has been done by an automatic system, therefore we apologize if it isn't perfect. If you find any mistake or you have any suggestion for a better translation, please contact us.
Ingredients
FOR THE DOUGH
500 g flour "0" + additional flour for the pasta
200 g water
1 tablespoon of extra virgin olive oil
Salt

FOR THE FILLING
250 g of tofu not very dry
250 g cooked spinach very well squeezed
fine salt
nutmeg
1 tablespoon cornstarch
100 g soft margarine

FOR THE SAUCE
1/2 onion (medium, as a small orange), finely chopped
1 small garlic clove, crushed and poached
750 ml rustic tomato sauce (salsa and tomato chunks)
extra virgin olive oil
1 vegetable stock cube
1 tablespoon fresh chopped Basil
chilli (optional)
Instructions
Begin by STUFFING
Wash very well raw spinach, drain and put in a pressure cooker with a glass of water and a little salt.
Close and, as soon as it begins the hissing, put out the fire and put the closed pot under running cold water.
Once the pressure, open the pot and drain spinach.
Arrange them on a platter to the cold side first.
Wring it out very well.
Pass through a food mill.
Combine the pureed spinach with tofu, crumbled to margarine, cornstarch, nutmeg and a pinch of salt.
Knead very well at the end should be creamy.
Cover with plastic wrap and refrigerate.

Prepare the sauce
Put pressure cooker the oil, onion and garlic; Let it FRY.
Join the nut, the gravy, a little water and some Basil.
Cook over low heat until the hissing, draining tortelli.

Now go to PASTA
Mix the flour with water and oil.
Get her on the table, or use the machine to pull the sheets.
Cut out the square of 6 × 6 cm.
Put in the middle of each square a little dough.
Close the dough into triangle, moisten the edges with a wet finger in water, put to use very well.

To get the base angles of the triangle: take cappelletti and turning them down put to use between them.

To get wonton: with a serrated pasta cutter press on excess of paste, eliminating the tips of the triangle.

Bake in warm salt water to a boil, collect gently through a sieve after about two minutes, who moved up to the surface.
Drizzle with the sauce simple and chilli, fresh basil leaves for garnish.
Serve with fresh white wine.
---
---
---
---
---
Notes
(Thanks to Anna - Mamy TVB)