Chocolate pudding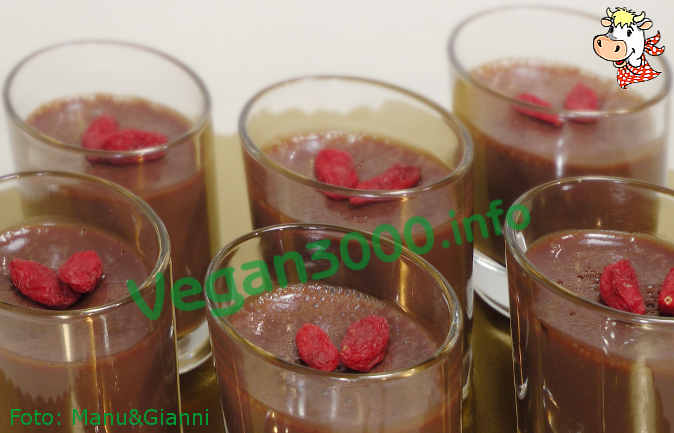 Disclaimer
This translation has been done by an automatic system, therefore we apologize if it isn't perfect. If you find any mistake or you have any suggestion for a better translation, please contact us.
Ingredients
35 grams of cocoa powder
4 tablespoons brown sugar
2 or 3 tablespoons flour (depending on if you want more or less thick)
500 ml soy milk
Instructions
Put the cocoa, sugar and flour in a saucepan and mix well to avoid lumps.
Slowly add the soy milk, over a medium heat and mix well.
As soon as the mixture begins to boil is ready.
You can add cooked a pinch of soy butter.
---
---
---
---
---
Notes
(Thanks to Barbara)
Your comments
ho messo dei biscotti "digestive" inzuppati di Cointreau sul fondo delle coppette, prima di versarci il composto.
- Irene -
ricetta top!!! bilanciamento perfetto di cacao e farina con la quantità di liquidi. io non sono vegana ed a volte uso latte vaccino. budino gustosissimo e leggero e dalla consistenza cremosa, per me la ricetta migliore di tutte, non c'è davvero bisogno di cioccolata o altri ingredienti, provatela e non la lascerete più <3
- erica -