Birthday cake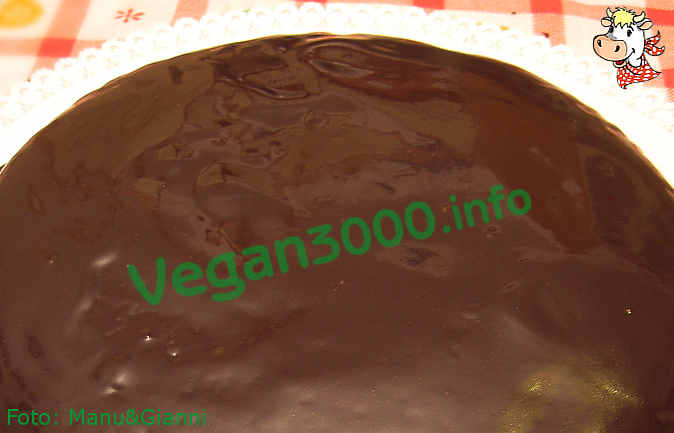 Disclaimer
This translation has been done by an automatic system, therefore we apologize if it isn't perfect. If you find any mistake or you have any suggestion for a better translation, please contact us.
Ingredients
250 g of flour for cakes
70 g sugar complete
70 g of soy butter
2 tablespoons rice malt syrup
2 ripe pears
1 teaspoon unsweetened cocoa
200 ml soy milk
1 sachet of baking powder
1 lemon

For garnishing.
70 g dark chocolate
milk as required
2 tablespoons rice malt syrup
Instructions
Blend the butter with the sugar, the grated lemon zest, 1 teaspoon of cocoa powder, a little milk, 2 tablespoons rice malt syrup.
In a bowl mix the yeast in the flour and pour a spoonful at a time into the mixture with the remaining milk.
Stir slowly with a whisk until the mixture is homogeneous.
Pour the mixture into a baking sheet of 28-30 cm, greased with butter.
Lay the slices of pear shaped valleys on the surface of the mixture with a spatula.
Bake for the first 5 minutes at 200° C, then lower the temperature to 180° C for 35 minutes.

For garnishing.
In a double boiler melt the dark chocolate, rice malt and milk just enough to obtain a cream.
Smear still lukewarm on the cake and allow to cool.
---
---
---
---
---
Notes
(Thanks to Renata P.)