Parmentier with potatoes and lentils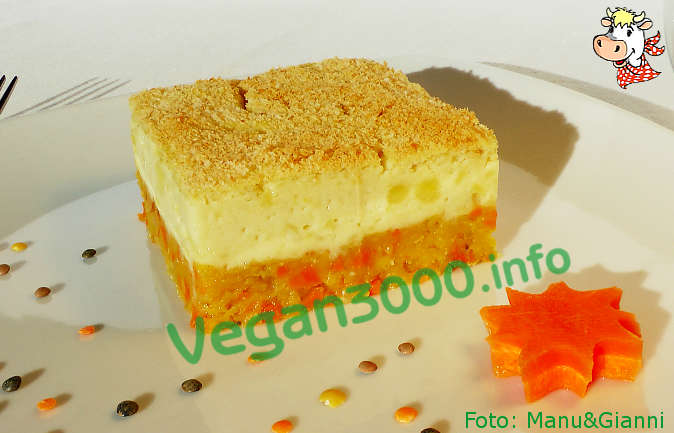 Disclaimer
This translation has been done by an automatic system, therefore we apologize if it isn't perfect. If you find any mistake or you have any suggestion for a better translation, please contact us.
Ingredients
For 4 people (as a main course) or 8 (second course)
200 g of red lentils
2 shallots
2 carrots
1 kg potatoes
250 by corn cream (or soy)
100 ml oat milk (or soy)
1 tablespoon Dijon mustard
extra virgin olive oil (2 tbsp for the sauce and 2 to grease the pan)
1 teaspoon dried herbes de Provence
salt

For the topping:
1 tablespoon breadcrumbs and one of nutritional yeast flakes
Instructions
Rinse and cook the lentils for about 15-20 minutes, season with salt only when cooked.
Sauté with oil and the shallots sliced thin, add the carrots, season with a little herbes de Provence and a pinch of salt.
Finally add the lentils and cook everything together for another few minutes.
Meanwhile, boil the potatoes in their skins until tender.
Put them under cold water, peel and mash them reducing them in mashed.
Add the cream, mustard and vegetable milk, then stir the mixture thoroughly. Finish off with a good sprinkling of herbes de Provence and season with salt.
When everything is ready, a large oiled ovenproof dish and arrange all the lentils in a single layer, then top with the substantial coverage of mashed potatoes, crushing and flattening the surface with the back of a spoon.
Sprinkle with a tablespoon of bread crumbs and a nutritional yeast flakes, then bake at 200° C for about 20 minutes, until the surface becomes crispy golden.
Serve immediately while still hot.
---
---
---
---
---
Notes
Thanks to Emanuela Barbero, webmaster di Vegan3000 e autrice di libri di cucina vegan

SCHEDA

Tempo di preparazione: circa 30 minuti + 20 minuti di cottura in forno

Difficoltà di preparazione: media