Vegan rice arancini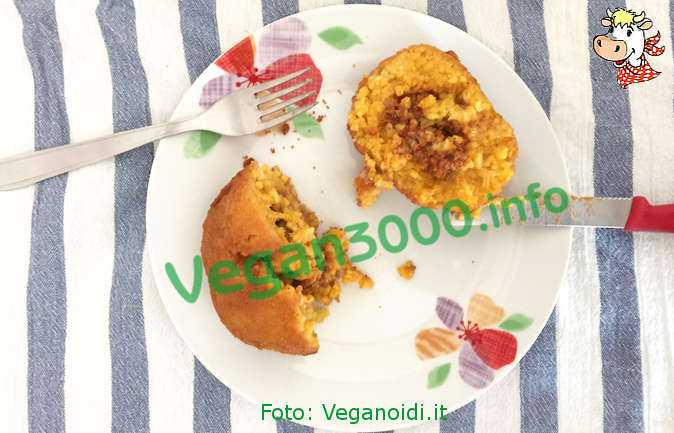 Disclaimer
This translation has been done by an automatic system, therefore we apologize if it isn't perfect. If you find any mistake or you have any suggestion for a better translation, please contact us.
Ingredients
For 10-12 pieces

Ingredients for rice
1 sachet of saffron pistils bio
1 pinch of black pepper
2 tablespoons extra virgin olive oil bio
500 g of vialone nano or Arborio
1 pinch of whole sea salt
1.2 l of broth (onion carrot/celery/vegetables)
100 g parmesan vegan cheese

For the filling vegan sauce
salt to taste
ground black pepper to taste
organic onion 1
100 g seitan unflavoured
2 tablespoons extra virgin olive oil olive oil
200 ml of tomato puree
80 g peas
1 glass of red organic wine without sulfites

For the batter
organic 200 g flour type 0
1 pinch of whole sea salt
300 ml water

For breading and frying
breadcrumbs (from bread without animal fats) to taste
peanut oil to taste
Instructions
Boil the rice in broth until it is completely absorbed.
In cooking, add the saffron dissolved in a little hot water, oil, vegan parmesan and pepper.
Put the rice on a baking sheet to cool it and with a film to keep it dry.
Meanwhile, fry the onion in olive oil, add the minced seitan and fry.
Let evaporate the wine.
Add the tomato and cook for 20 minutes with the lid and the peas and pepper.
Let cool for 2 hours on rice, then take two tablespoons at a time and pour the sauce in the middle.
Given a pointed shape.
Prepare the batter: in a bowl, pour the flour, a pinch of salt and water.
Mix thoroughly with a whisk to avoid lumps.
Toss oranges into the batter and then in the breadcrumbs.
Heat oil to 180 degrees and friggetene two at a time until they are golden brown.
Drain on paper towel and serve hot or warm.
---
---
---
---
---
Your comments
Wow!! Che idea stupenda!
- Marina -
Bellissimo! Ma per quante persone è?
- Nirvana -
Nirvana, grazie per l'apprezzamento. Come indicato nella ricetta con queste dosi si ottengono circa 10-12 arancini, per cui dipende da quanti ne vengono mangiati da ogni persona. :-)
Diciamo quindi che se ci si limita ad un arancino a testa possono bastare per 10-12 persone, due arancini a testa per 5-6 persone... e via "arancinando"... :-) :-)
- Lo staff di Vegan3000 -
Have you tried these recipes?