Salad of wheat, beans and vegetables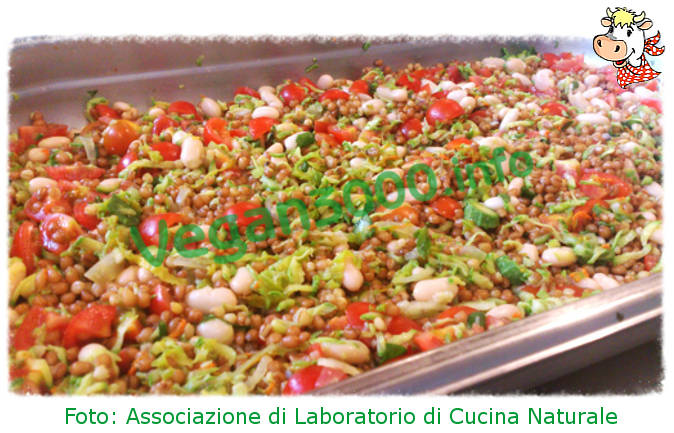 Disclaimer
This translation has been done by an automatic system, therefore we apologize if it isn't perfect. If you find any mistake or you have any suggestion for a better translation, please contact us.
Ingredients
200 g of wheat in grain
300 g cooked white beans
300 g cherry tomatoes
4 courgettes with flower
2 sticks of celery
1 shallot
a few leaves of basil and mint
salt
extra virgin olive oil
Instructions
Soak the wheat for 8-10 hours and cook it in two volumes of water in pressure cooker for 40 minutes.
Once cooked, season it with a little oil and allow it to cool.
Separate the zucchini flower, grate the courgettes and cut flowers subtly after eliminating the pistil.
Cut the shallots thin and brown it in a little oil and water in a saucepan.
Combine the zucchini and continue cooking over high heat for 3-4 minutes.
Season with salt and add the flowers, cook for 2 minutes.
Cut the tomatoes into small cubes, celery into thin slices and place in a bowl with the beans and finely chopped herbs, add the corn, drizzle with the oil and let it sit a few hours before serving.
---
---
---
---
---
Notes
Thanks to Associazione di Laboratorio di Cucina Naturale
Your comments
IL GRANO TENERO DOPO DUE GIORNI DI AMMOLLO E QUATTRO ORE DI COTTURA E' ANCORA DURO!!!!!
- Anonimo -
Anonimo, non è ke hai messo il sale durante la cottura o il grano si è scottato? 1 altro consiglio x ammorbidire cereali e legumi è aggiungere un pezzetto di alga durante la cottura
- Marina -