Chia shot glasses with pomegranate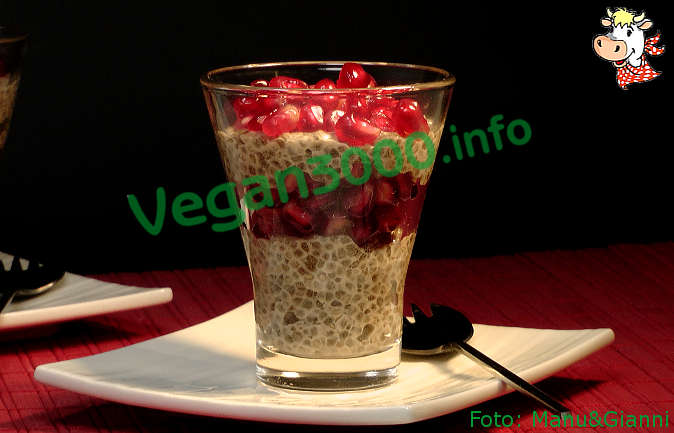 Disclaimer
This translation has been done by an automatic system, therefore we apologize if it isn't perfect. If you find any mistake or you have any suggestion for a better translation, please contact us.
Ingredients
For 4 small recipe glasses 11 cl
1 11 cl shot glass of chia seeds
3 11 cl shot glasses of almond milk (or hazelnut milk)
2-4 tablespoons of maple syrup
a pinch of iodized salt
100 g of pomegranate seeds
Instructions
Pour the chia in a glass container (with lid for sealing).
Add the almond milk, maple syrup and a pinch of salt.
Stir everything carefully, cover and refrigerate for several hours or overnight, until the chia will not completely absorb the liquid part.
Serve in shot glasses with the chia in layers separated by pomegranate seeds, ending with them.
A simple recipe especially tasty at the same time: just as the ones we like best! : o)
In addition, with that touch of elegance given by pomegranate.
---
---
---
---
---
Notes
Thanks to Emanuela Barbero, webmaster of Vegan3000 and author of vegan cookbooks

Chia seeds are very rich in proteins and are an excellent source of calcium, magnesium, phosphorus and potassium, while pomegranate is rich in antioxidants and is known since ancient times for its anti-aging properties. In short, this is not only a dessert but a real "superfood" !! : o)