Tricolor vegetable lasagna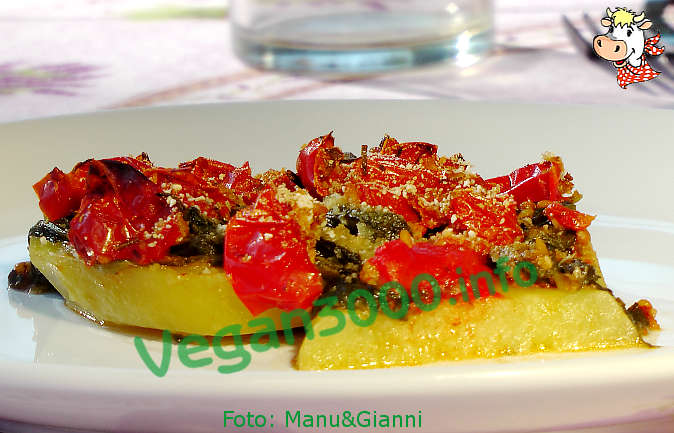 Disclaimer
This translation has been done by an automatic system, therefore we apologize if it isn't perfect. If you find any mistake or you have any suggestion for a better translation, please contact us.
Ingredients
For 4 people
3 medium sized potatoes
500 g cherry tomatoes
500 of chard
1 shallot
2 cloves of garlic
extra virgin olive oil
chili pepper (amount to taste)
aromatic salt
1 teaspoon breadcrumbs
1 teaspoon nutritional yeast flakes
Instructions
Boil the potatoes in their skins, when cooked drain and let cool.
Once cooled, peel them and cut them into slices.
Chop a clove of garlic and let it brown slightly in a large pan with a little oil, add the beets after peeled, add salt, add a cup of water, cover and leave to simmer for about 15 minutes, stirring occasionally and making sure that doesn't stick to the bottom of the pan: if necessary add a few tablespoons of water as it dries.
Chop the shallot and another clove of garlic, fry briefly in a couple of tablespoons of olive oil, add the tomatoes, cut into wedges, season with salt and add a pinch of red pepper.
Sauté them causing them to wilt and leaving evaporate their water.
When all vegetables separately are ready, grease a baking sheet with a thin layer of oil and clutch springs in this way: on the bottom you have boiled potatoes sliced, then follow with a layer of biete and finish with the tomatoes.
Sprinkle the surface with a light dusting of bread crumbs and nutritional yeast flakes, then bake in a hot oven at 200° C for 15-20 minutes and serve.
---
---
---
---
---
Notes
Thanks to Emanuela Barbero, webmaster di Vegan3000 e autrice di libri di cucina vegan
Have you tried these recipes?