Oat flakes cookies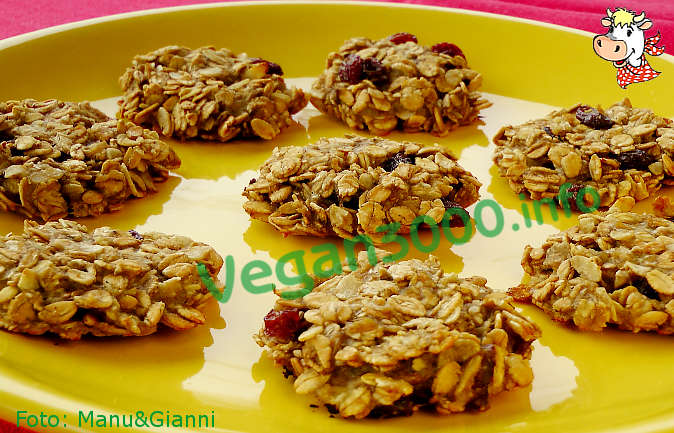 Disclaimer
This translation has been done by an automatic system, therefore we apologize if it isn't perfect. If you find any mistake or you have any suggestion for a better translation, please contact us.
Ingredients
For a baking
2 or 3 ripe bananas
200-250 g of oat flakes (or mixed cereals)
a few tablespoons of vegetable milk (hazelnut or almond, chocolate, rice etc.)-(not essential)

Optional ingredients
dried fruit (raisins, apricots, figs, cranberry, goji berries, coconut etc.)
nuts (hazelnuts, almonds, pistachios, cashews, Pecans etc.)
chocolate (drops or flakes)
cocoa powder
Instructions
Pre-heat the oven to 170-180° C.
Blend or mash very well, with the prongs of a fork, the flesh of the banana and mess it up. with corn flakes to the dough is rather coarse.
For the cookies of the photo I added also a coffee cup of raisins, soaked for 15-20 minutes in milk with hazelnuts I had already opened in the refrigerator (of course are fine as well as other vegetable milks, according to taste and availability), then pour remaining milk in the dough that covered the raisins into the cup.
When the mixture is well blended and smooth, cover the pan with parchment paper and place on it the mixture with a spoon.
Bake for 15-20 minutes, until the cookies begin to Brown on the surface, but taking care not to let them burn (use more or less depending on the oven you have).
It is best to eat them quickly for both the content of fresh fruits (bananas), either because they tend to harden over time.
---
---
---
---
---
Notes
Thanks to Emanuela Barbero, webmaster of Vegan3000 and author of vegan cookbooks
Optional ingredients can be added and changed at will: if you use the dried fruit, covering it with a cup of ammollatela briefly in vegetable milk (before soaking cut into pieces the larger one, such as figs or apricots), while if you use dried fruit you can add it directly to the dough, even reduced in grains for a more uniformly crisp.
For the chocolate version, you can add to the mix a few drops or flakes of chocolate and cocoa powder, to make them even more "yummy chocolate". :-)
In these cookies the sweetness is the banana, which also serves as a binder, and to some extent from fortified milk plant: from that of rice, or by the addition of agave syrup or brown sugar in case of another vegetable milk.