Chana Masala (Indian style curried chickpeas)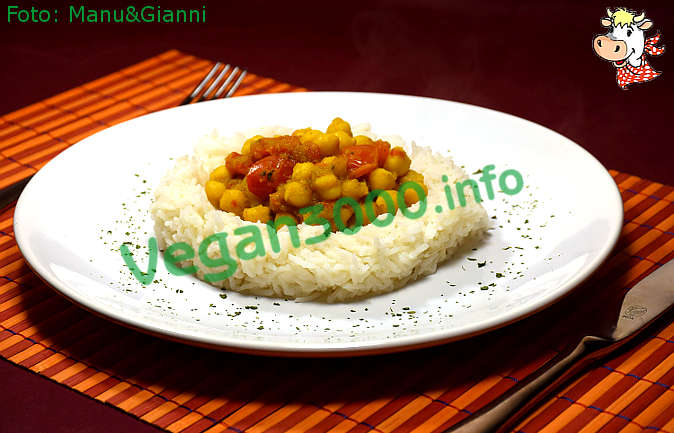 Disclaimer
This translation has been done by an automatic system, therefore we apologize if it isn't perfect. If you find any mistake or you have any suggestion for a better translation, please contact us.
Ingredients
For 4-6 people
500 g of boiled chickpeas
500 g tomatoes
1 large onion (or 2 small)
2 cloves garlic
1 piece of fresh ginger (roughly the same amount of garlic)
3 teaspoons turmeric
1 teaspoon garam masala (Indian spice blend)
1 tsp ground coriander
1 teaspoon cumin
from .25 to 1 teaspoon red pepper (depending on how you want it spicy)
vegetable oil
salt
Instructions
The Chana Masala is a traditional Indian preparation of Punjab, among India and Pakistan.
Peel the tomatoes and make a stew, then keep aside.
Clean the onion, garlic and ginger and chop into puree with a blender, then keep aside.
Pour a few tablespoons of oil in a large frying pan and let it heat up, then add the onion, garlic and ginger puree, various spices (turmeric, garam masala, coriander, cumin, chili).
Stir and simmer a few minutes over medium-sweet.
Add the diced tomatoes and cook for about 15 minutes.
Add the chickpeas, season with salt, stir, reduce the heat and leave on the heat for another 5 minutes.
Once cooked, garnish the dish with coriander and serve with Basmati rice or chapati bread.
---
---
---
---
---
Notes
Thanks to Emanuela Barbero, webmaster di Vegan3000 e autrice di libri di cucina vegan
Have you tried these recipes?