Apple and pumpkin pie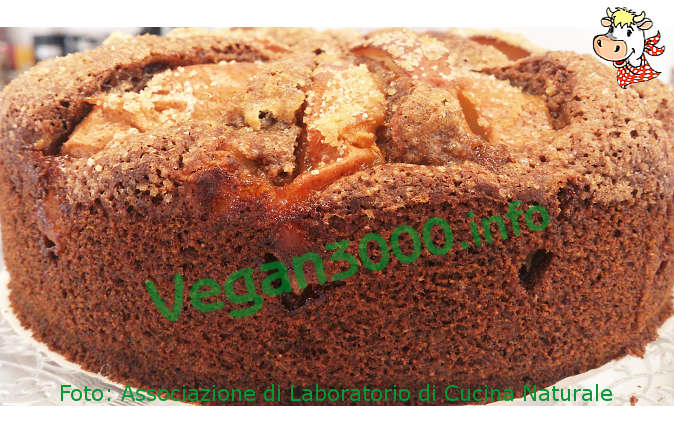 Disclaimer
This translation has been done by an automatic system, therefore we apologize if it isn't perfect. If you find any mistake or you have any suggestion for a better translation, please contact us.
Ingredients
250 g flour type 2
150 g brown sugar plus 2 tablespoons
100 ml sunflower oil deodorized cold pressed
1 lemon
350 g pumpkin baked bean peeled
2 apples
125 g soy yogurt
100 g of raisins soak
1 tablespoon cinnamon
a pinch of salt
0.5 teaspoon cream of tartar

Instructions
Cut apples into wedges and marinate them with lemon.
In a large bowl mix the flour, salt, lemon zest, sugar, cinnamon and raisins, previously softened.
In another bowl blend pumpkin, yogurt and oil.
At this point, add the liquid ingredients and stir together with solid ones.
At the end add the yeast.
Put the mixture into a baking dish, preferably with 24 cm diameter.
Place over the dough apples into wedges and sprinkle with sugar.
Bake at 180° C for 50-60 minutes.

---
---
---
---
---
Notes
Thanks to Associazione di Laboratorio di Cucina Naturale
Your comments
È veramente gustosa ma non capisco perché a me viene bassa mentre nella foto è bella alta mah!
- Rita -
Ciao Rita! Teglia da 24 cm è tanto! Io le faccio con teglie più strette o metto riduzione per farle "cicciottelle", però questa ancora non l'ho provata, bisogna eventualmente ricalcolare tempi di cottura e temperatura perché si cuociano bene anche al centro. È un continuo sperimentare ma ne vale veramente la pena!
- Marina -
Ottima! Fatta ora e piaciuta!
- Julie Andretta -
Have you tried these recipes?