Cannelloni with spinach and tofu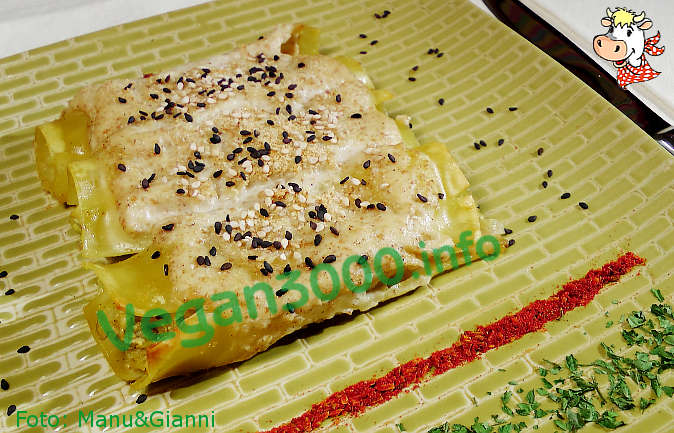 Disclaimer
This translation has been done by an automatic system, therefore we apologize if it isn't perfect. If you find any mistake or you have any suggestion for a better translation, please contact us.
Ingredients
For 8 people
250 g of cannelloni with durum wheat semolina
300 g frozen spinach
500 g of tofu
vegan bechamel
aromatic salt
pepper
extra virgin olive oil
natural soy milk to taste.
ginger
Instructions
First, prepare the filling for cannelloni, and cook for a few minutes in boiling salted water spinach (follow the directions on the package) and crumbling tofu on a plate with a fork (cutting him before the operation into cubes is easier).
Once well crumbled, add a few pinches of salt, preferably sea salt or aromatic salt, add a sprinkling of herbs to your liking.
Add a bit of soy milk to soften the dough, whose consistency must be soft but not too runny.
To flavor the stuffing further add a pinch of pepper and a sprinkling of dried ginger, set according to your tastes.
Mix well with a fork, drain the spinach and mix them together with the tofu. At this point the stuffing is ready.
In the meantime you brought to boiling salted water you blanch for a few minutes the cannelloni (follow the directions on the package).
Drain and place them on some dishes, so that's not sticking together (for this purpose you should also put a couple of tablespoons of olive oil in the cooking water).
You can also use the cannelloni without letting them bake and thus becomes even easier to fill them: in this case, be careful to keep the filling much softer, even slightly liquid in order to optimize cooking pasta in the oven.
Pick up a pair of capacious pans, brush with oil and place the cannelloni as they fill with the mixture prepared earlier.
For a better and a more eye-catching presentation is preferable to a single layer of cannelloni (hopefully you can dispose of someone even transversely, filling the cracks remain).
Now you can engage yourself with the vegan bechamel.
As soon as ready cover the cannelloni with a middle layer and Bake until brown the surface (about 20-25 minutes, but adjust to the eye).

Also try cannelloni with pumpkin and rosemary or cannelloni-tofu-kale or cannelloni with asparagus.
---
---
---
---
---
Notes
Thanks to Emanuela Barbero, webmaster di Vegan3000 e autrice di libri di cucina vegan.
Ricetta pubblicata nel volume "La Cucina Etica", edizioni Sonda.