Quiche of escarole, raisins and pine nuts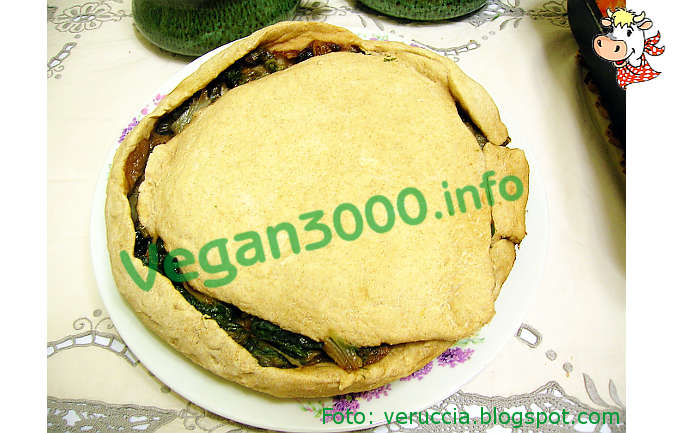 Disclaimer
This translation has been done by an automatic system, therefore we apologize if it isn't perfect. If you find any mistake or you have any suggestion for a better translation, please contact us.
Ingredients
For 8 personand
300 g flour 00
1/2 cube of yeast
250 ml lukewarm water
2 teaspoons salt
1 smooth escarole (endive)
50 g black olives into pieces
20 g of shelled pine nuts
3 tablespoons capers well rinsed
1 clove of garlic
3 tablespoons of extra virgin olive oil
salt
15 g raisins softened
Instructions
Prepare it the day before and serve it warmed in the oven.
In a bowl mix flour, salt, yeast dissolved in a little water and knead vigorously for 20 minutes, until it forms a soft dough but consistent.
Let it rise for 4 hours or longer, until doubled.
Clean the escarole, scold the leaves in water bills and cut into pieces.
In a saucepan, heat the oil and the garlic, then take it out and gently imbionditevi olives, capers, pine nuts and raisins; after 5 minutes add the escarole.
Cook for 20 minutes.
Divide the dough into 2 pieces and lay them with a rolling pin into 2 circles, one of which is slightly larger than the other.
Grease a baking dish with a diameter of 20 cm, stretch out the dough with a fork, bucatela largest, pour the vegetables and cover with the other sheet, sealing the edges. Bake at 200°C for 40 minutes.
---
---
---
---
---
Notes
Thanks to Vera Ferraiuolo - veruccia.blogspot.com
Have you tried these recipes?