Chickpea crusted meatloaf with mushroom sauce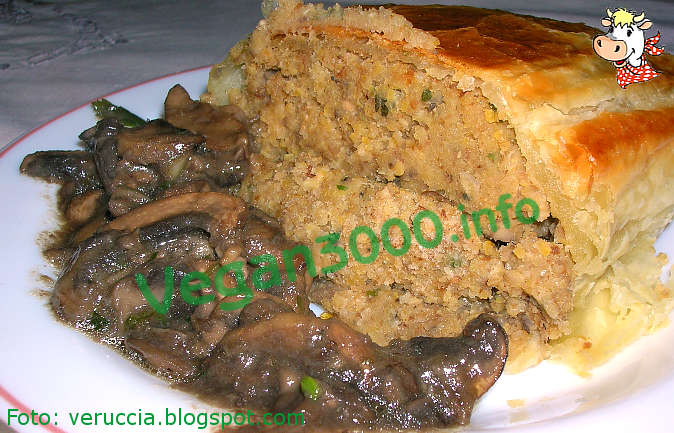 Disclaimer
This translation has been done by an automatic system, therefore we apologize if it isn't perfect. If you find any mistake or you have any suggestion for a better translation, please contact us.
Ingredients
For 8 people
For the chickpea meatloaf
800 g dried chickpeas, 200 g of shelled walnuts and chopped (or 450 g walnuts from the shell), 150 g of breadcrumbs, 150 g of wheat germ and nutritional yeast flakes, 4 cloves of garlic, 2 tablespoons coriander powder, 1 tablespoon of salt, 200 g of fresh mushrooms, 2 250 g packs of ready-to-use puff pastry (optional) vegetable stock advanced from ravioli to taste.

For the mushroom sauce
400 g of fresh mushrooms, 250 ml of vegetable stock, 2 cloves garlic, 4 tablespoons of extra virgin olive oil, 2 tablespoons of cornstarch or flour
Instructions
Put the chickpeas in water for 12 hours, rinse them and boil them until they are tender (40 minutes in pressure cooker, one hour and more regular pot). Puree to Blender, mix with the nutritional yeast, wheat germ, nuts, coriander and bread crumbs.

Wash and slice the mushrooms; toss in pan with oil and garlic for a few minutes, until they are soft. Mix and add them to the mixture of chickpeas; season with salt, and add broth to mix if necessary.

Route the two rolls of dough, pour half of the filling on each browse by compacting fine and brought together the edges, sealing. Turn the sheets, practice of the cuts diagonally across the surface and bake at 200 degrees for about 40 minutes. You can bake the meatloaf without wrap it in puff pastry, but cover halfway through cooking with aluminum foil to prevent drying.

Meanwhile, heat oil in a pan, saute the mushrooms until they start to soften and add the minced garlic, broth and if you like it, two glasses of white wine. Add the sieved starch or flour, stir until it starts to thicken, and serve warm with the meat loaf.


To save time
For this recipe, you can use pre-cooked chickpeas or cook them in advance; You can also prepare the filling ahead of time and store it in the refrigerator for a couple of days, adding the broth and the dry ingredients before baking.
The sauce, however, need to be cooked.
---
---
---
---
---
Notes
Thanks to Vera Ferraiuolo - veruccia.blogspot.com
Have you tried these recipes?