Vegan Pullece e' Monaco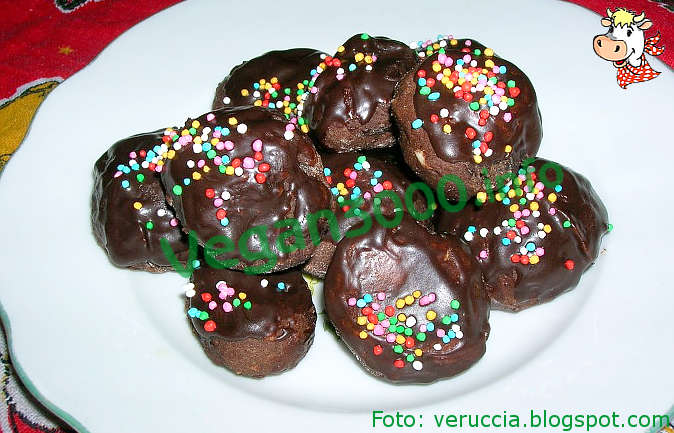 Disclaimer
This translation has been done by an automatic system, therefore we apologize if it isn't perfect. If you find any mistake or you have any suggestion for a better translation, please contact us.
Ingredients
For 8 people
500 g flour
200 g brown sugar
5 g baking powder
1 teaspoon of ground cinnamon
100 g almonds, powdered
100 g hazelnuts, toasted and ground
50 g cocoa powder

For coverage
125 g dark chocolate
50 brown sugar
soy milk to taste.
Instructions
This is a typical Neapolitan sweet.
Mix flour, sugar, cocoa, baking powder and spices; add the chopped nuts.
Gradually add warm water and knead the dough long, mixing everything together.
Flouring your hands, remove the pieces of dough and form into balls about the size of a walnut, and flatten slightly.
Bake on baking sheet until you've crispy (approximately 30 minutes at 170°C).
Meanwhile, melt the chocolate in a bain marie, add sugar and dilute with a little soy milk.
Brush on cupcakes, before final set sprinkles and when they're dry repeat the process on the other side.

To save time
You can prepare in advance, indeed, will gain flavor after a day's rest. Keep them in tins.
---
---
---
---
---
Notes
Thanks to Vera Ferraiuolo - veruccia.blogspot.com