Botched escalopes with mushrooms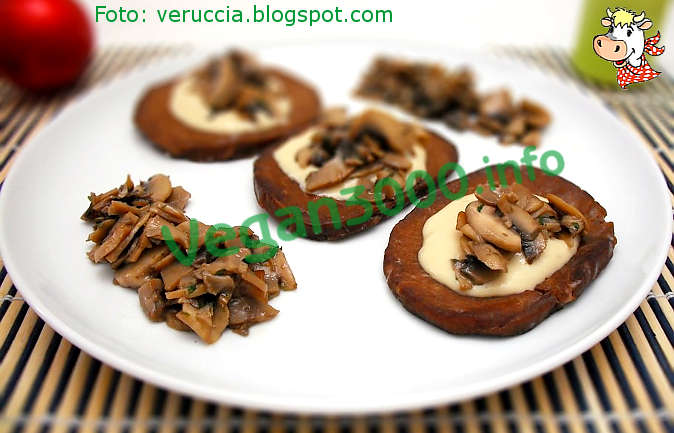 Disclaimer
This translation has been done by an automatic system, therefore we apologize if it isn't perfect. If you find any mistake or you have any suggestion for a better translation, please contact us.
Ingredients
For 8 people

800-1000 g seitan cut into 16 slices
flour 00
3 tablespoons of extra virgin olive oil
0.5 cup of white wine

For the sauce
1 cup nutritional yeast powder
1 cup of flour 00
4 cups of water
1/2 glass of 100% vegetable margarine
1 teaspoon salt
1 teaspoon garlic powder
2 teaspoons of mustard

For the mushrooms
600 g of mushrooms
2 tablespoons of extra virgin olive oil
2 cloves garlic
2 tablespoons chopped fresh parsley
1 pinch of cayenne pepper
1 pinch of salt
Instructions
For the seitan
Heat the oil in a frying pan. Flour the slices, trim away the excess flour and fry on both sides for a few minutes. Deglaze with the wine, allowing it to evaporate completely, and keep the seitan aside, warm.

For the sauce
Mix the ingredients (except mustard and margarine) in a saucepan.
Add water, a little at a time, stirring with a whisk to not to form lumps and cook over medium heat, stirring constantly, until thick.
Turn off the heat, add the mustard and margarine and stir until everything is smooth and homogeneous.

For the mushrooms
Sautéed mushrooms, cleaned and sliced, along with the other ingredients, until they are soft.

Season the escalopes with the sauce and the mushrooms (eliminating the garlic).
---
---
---
---
---
Notes
Thanks to Vera Ferraiuolo - veruccia.blogspot.com