Spicy tower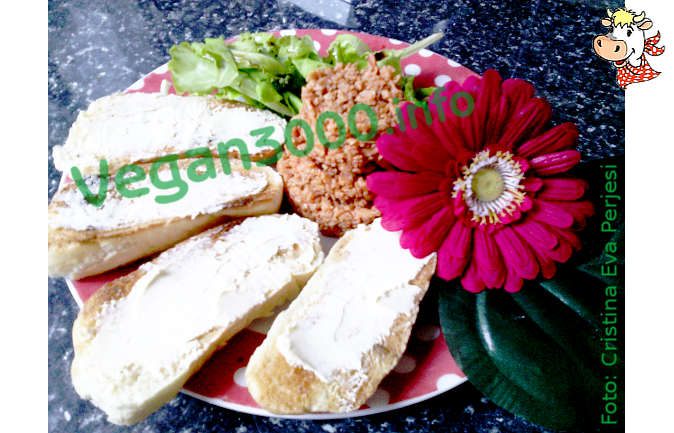 Disclaimer
This translation has been done by an automatic system, therefore we apologize if it isn't perfect. If you find any mistake or you have any suggestion for a better translation, please contact us.
Ingredients
50 g granular soy
1 teaspoon sweet paprika
tomato concentrate (preferably flavored with vegetables)
salt
pepper
spices to taste
lemon juice
Instructions
This morning I woke up with the the desire to eat raw meat (I'm not eating meat because I love animals and not because I don't like it). What to do???? I prepare the vegan version.


I start leaving the granular soy for 20 minutes in boiling water, rehydrating .
I drain, I squeeze the excess water, and I place it in a bowl.
When cooled, I add the paprika, tomato paste for coloring, spices, pepper and lemon juice. I put it in the fridge.
After some time, I pull out, preparing shapes with cookie cutters to form a tower and serve it with slices of toast.
Enjoy your meal!
---
---
---
---
---
Notes
Thanks to Cristina Eva Perjesi