Deliciously stuffed vol au vent of polenta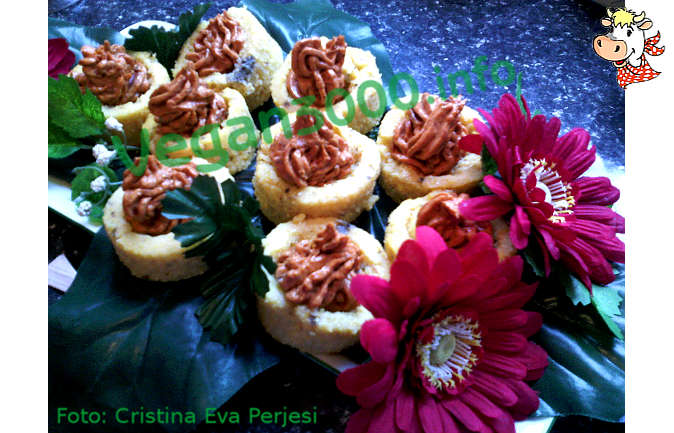 Disclaimer
This translation has been done by an automatic system, therefore we apologize if it isn't perfect. If you find any mistake or you have any suggestion for a better translation, please contact us.
Ingredients
For the vol au vent
300 g of cornmeal flour for polenta
1.2 liters of water
oregano
1 vegetable stock cube without glutamate and palm oil
a punch of yeast flakes
For the cream filling
1 small jar of sun-dried tomatoes marinated in oil and vinegar
1 teaspoon of
1/2 package of vegan cream
3 pinches you yeast flakes
tomatoes storage oil to taste
Instructions
Hello everyone.
I wanted vol au vent, but with the heat I did not want prepare them in the traditional way, so I told to myself: and if I cook them with polenta instead of the dough? Ok!
First I prepare the polenta bringing water to a boil in which I put the nut.
Once boiling, I remove the pan from the heat and slowly add the cornmeal and stir with a whisk to avoid lumps.
Before the polenta hardens I add baking powder and oregano, I put it back on the stove and I finish cooking.
When the polenta is ready, I pour it into a pan with high sides, I level it and expect it to cool.
When it is cold, with pastry rings I make the disks that are quite high, from which, using a smaller cookie cutter or a shot glass, I obtain central vacuums. Don't go way down but stop halfway through.
At this point the vol au vent must be filled.
Into the blender put the dried tomatoes with storage oil and three pinches of yeast flakes.
I blend.
I add the vegan crème fraîche and a teaspoon of cornstarch.
I continue to mix until creamy.
I fill the sac-à-poche and stuff the vol au vent.
This is a great summer cold dish.
---
---
---
---
---
Notes
Thanks to Cristina Eva Perjesi
Have you tried these recipes?