Vegan Hungarian gulyas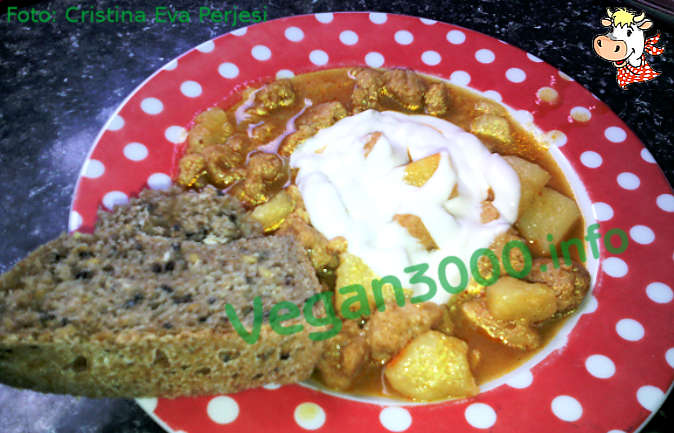 Disclaimer
This translation has been done by an automatic system, therefore we apologize if it isn't perfect. If you find any mistake or you have any suggestion for a better translation, please contact us.
Ingredients
soy nuggets about 200 g
1 medium onion
smoked tofu (optional)
1 pinch of garlic powder
salt
sweet or spicy paprika according to taste
1 vegetable stock cube without palm oil and glutamate
3 or 4 beautiful potatoes
water to taste
sunflower oil
Instructions
Today I would like to offer you the recipe for goulash, Hungarian Gulyas, vegan version.
Remember that this is a soup, and not stew with potatoes, as is commonly served in restaurants.
I clean and chop the onion and fry it in the oil until it becomes transparent.
I add the smoked tofu cut into small squares imitating bacon, which will replace the lard of the original recipe.
When the onion and tofu are seasoned, I add a teaspoon of paprika, removing from heat to prevent burning and putting the onion and tofu.
I remove from the heat because if the onion burns, it takes on a bitter and unpleasant.
I put again the pot on the stove, I add the soy nuggets and I stir until brown, adding a little hot water to prevent overcooking.
Once the soy is colourful and flavoured, I add the potatoes cut into chunks, I cover them with hot water, crush the stock cube and close the pressure cooker. When it starts to whistle, I turn down the heat and bake it for about 15/20 minutes.
When the cooking is finished, I turn off the gas and I let the cooker lose pressure, I lift the valve, I open it and pour all in another pot.
I let it sit for half an hour to take flavor.
At this point, but it's optional, I melt a tablespoon of cornstarch in a half a cup of water and I add to the soup. In this way I addenso the broth, which becomes irresistibly good.
I serve the gulyas with a little natural vegetable yogurt and some slices of fresh bread, possibly self made.
If you let it out of the fridge you can serve the gulyas at room temperature, in this case don't add the cornstarch.
Enjoy your meal!
---
---
---
---
---
Notes
Thanks to Cristina Eva Perjesi
Have you tried these recipes?