Drowned millet meatballs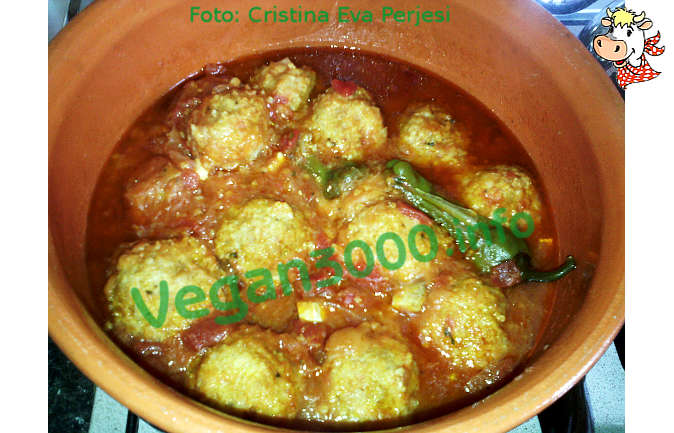 Disclaimer
This translation has been done by an automatic system, therefore we apologize if it isn't perfect. If you find any mistake or you have any suggestion for a better translation, please contact us.
Ingredients
For the meatballs
100 g of millet
1 small loaf of bread
garlic powder
salt
pepper
parsley
bread crumbs to taste
For the sauce
1 onion
1 piece of smoked tofu
2 peppers friggitelli
1 can of chopped tomatoes
salt
1 organic nut without palm oil and glutamate
extra virgin olive oil
Instructions
Today I tried to make meatballs of millet, but since I had no desire to bake or frying them, I told myself ... why not drowning them?!?
Preparing the millet meatballs
First I bake the millet in unsalted water following the instructions on the package.
For 100 g of product I added 300 ml of water and cook until all the water has been absorbed.
At this point I rinse under cold water and add the bread loaf previously soaked and wrung.
Now I add salt, garlic, pepper, parsley and stir so as to mix everything.
Now I add the bread crumbs and dough with my hands until the mixture is soft but consistent.
I take a little dough and form them into balls with my hands. I get 12 dumplings (or metaballs).
Preparing the sauce
Now that I have prepared the meatballs, I prepare the sauce.
I finely chop the onion with the mandolin and put it in pan with the olive oil.
When the onion becames transparent I add the smoked tofu, peppers friggitelli and let flavor. Be careful not to burn the onion.
I add the chopped tomatoes and a can of hot water.
I salt and crush the nut.
When I see that it begins to boil, I dip the meatballs in the sauce, I stir so they get wet in the sauce, being careful not to break them.
I cover the pot and let them cook over medium-low heat for approximately 20-25 minutes, so to be sure the bread crumbs and bread are cooked.
After this time, I turn off the heat and I let the meatballs rest.

They can be served cold, with fresh bread.
For cooking I used a terracotta pottery, because in this way I think the results are tastier.

If the sauce becomes too sour because of the tomatoes, add a little sugar; if it is too liquid, one teaspoon of cornstarch or potato starch solves the problem.
---
---
---
---
---
Notes
Thanks to Cristina Eva Perjesi