Colored rice salad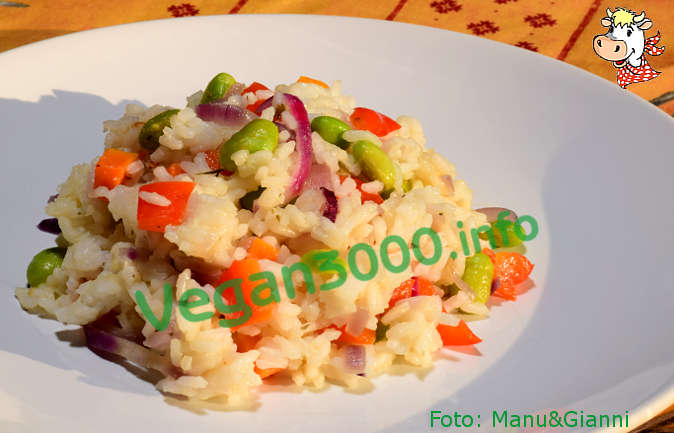 Disclaimer
This translation has been done by an automatic system, therefore we apologize if it isn't perfect. If you find any mistake or you have any suggestion for a better translation, please contact us.
Ingredients
For 6-8 people
500 g Basmati or Thay rice
300 g of edamame soy
3 medium carrots
1 red pepper
1 red onion
extra virgin olive oil
salt
chili (optional, to taste)
Instructions
A rich and hearty summer rice salad, fresh and tasty!
A bit different from the usual: no pickles but with a tasty seasoning made from stir fry vegetables.

Boil the rice in twice the volume of lightly salted water.
I had the Thaibonnet rice produced in Italy and I used that, but the grains are less separated than the Basmati.
When cooked and has absorbed all the water unravel it in a large salad bowl using a fork, add a little oil so that the grains remain well separated, mix carefully and allow to cool.
Blanch the edamame for few minutes and drain.
Thinly slice the onion and dice carrots and pepper.
Lightly fry the onion in hot oil in a wok (or large pan).
Add the carrots and toss for a few minutes.
Add the edamame and the peppers, add salt and let it over heat a couple of minutes to mix all the flavors.
If you like it, add a pinch of red pepper.
Turn off the heat and let cool.
Pour the vegetables into the bowl along with the rice, add a round of good olive oil and refrigerate for at least a couple of hours before tasting it!

It can be kept in the fridge for 2 or 3 days, stored in an airtight container.

With the same vegetables you can also prepare the colored pasta salad or other cold salads with grains according to taste.
---
---
---
---
---
Notes
Thanks to Emanuela Barbero, webmaster di Vegan3000 e autrice di libri di cucina vegan
Have you tried these recipes?