Indian Vegan Korma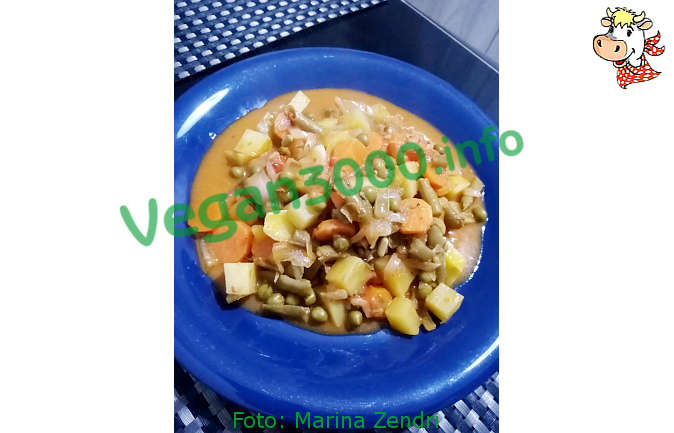 Disclaimer
This translation has been done by an automatic system, therefore we apologize if it isn't perfect. If you find any mistake or you have any suggestion for a better translation, please contact us.
Ingredients
For 4 people:
500 g potatoes
2 onions
2 cloves garlic
3 carrots
200 g peas
200 g green beans
400 g coconut milk
cumin - coriander - turmeric - cardamom - cinnamon - cloves - nutmeg (half a teaspoon per spice)
Oil
2 tbsp tomato purée
salt - pepper - a piece of ginger

Note. You can use various vegetables and legumes
Instructions
A very simple Indian dish, but the peculiarity of coconut milk makes it just special!
Clean the vegetables, dice the potatoes, thinly slice the carrots, cut the green beans in half, chop garlic and ginger.
Fry the garlic and onion in a little oil, add all the vegetables and legumes, add pastry, spices and coconut milk, salt and pepper.
Cook at least half an hour, possibly adding a glass of water in case you dry too much, but it should remain creamy.
Enjoy your meal!
---
---
---
---
---
Notes
Thanks to Marina Zendri