Spinach and hazelnut risotto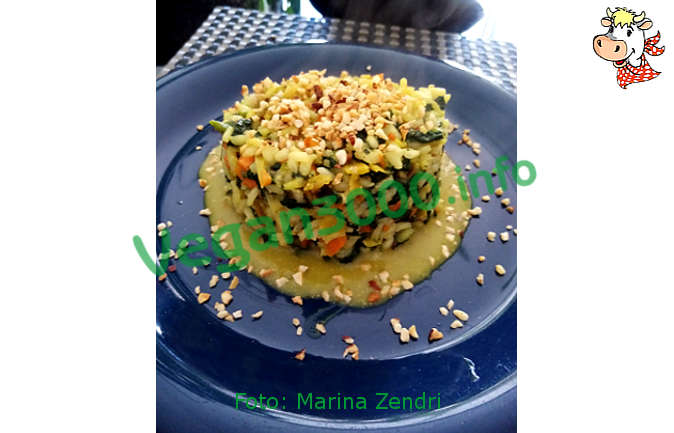 Disclaimer
This translation has been done by an automatic system, therefore we apologize if it isn't perfect. If you find any mistake or you have any suggestion for a better translation, please contact us.
Ingredients
For 2 people
- 200g rice
- 1 carrot
- 1/2 leek
- 1 garlic clove
- evo oil
- 1/2 glass of white wine
- 200g spinach, striped
- 50g chopped hazelnuts
- turmeric
- vegetable broth
- salt
- pepper
Instructions
I usually use brown rice, but since I don't have any in this period, white rice can also be fine!
Let the chopped leek, garlic and carrots wither in a little oil, add the rice and season with 1 minute. Blend with wine. Add broth a little at a time and stir.
5 minutes before cooking add the spinach, half the hazelnuts and turmeric, to taste.
Season with salt.
Flatten and decorate with the remaining hazelnuts, pepper and a drizzle of oil.
Enjoy your meal!
---
---
---
---
---
Notes
Thanks to Marina Zendri
Have you tried these recipes?