Pumpkin cookies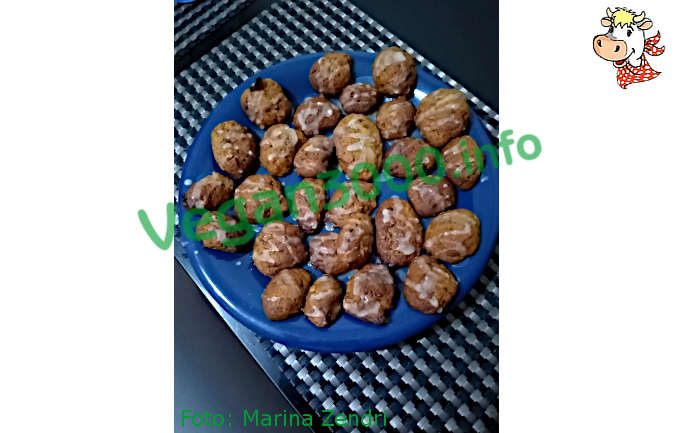 Disclaimer
This translation has been done by an automatic system, therefore we apologize if it isn't perfect. If you find any mistake or you have any suggestion for a better translation, please contact us.
Ingredients
350 g flour
400 g pumpkin
150 g brown sugar
half a glass of seed oil
1 teaspoon salt
2 teaspoons cinnamon powder
1 tsp ginger powder
1 tsp shredded cloves
1 tsp nutmeg powder
1 tsp baking soda
1 sachet yeast for sweets
1 tsp natural vanilla or vanilla aroma
For icing:
icing sugar
a few spoonfuls of vegetable milk
Instructions
Turn on the oven at 180°C.
Begin to mix the ingredients starting from the dry ones and then incorporating the pumpkin, previously boiled and reduced into mashed, and the oil.
Mix very well.
On a baking tray, covered with baking paper, form with a spoonful of the balls a little spaced. Bake for 16-18 minutes.
Bake and let cool.
Meanwhile make the icing by whispping the icing sugar with little vegetable milk.
When the cookies are cold, with a spoon quickly pass the zigzag glaze over the biscuits and let dry.
---
---
---
---
---
Notes
Thanks to Marina Zendri