Holy oil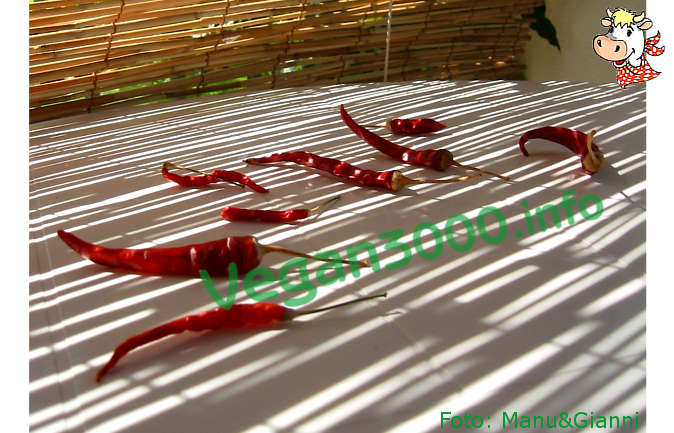 Disclaimer
This translation has been done by an automatic system, therefore we apologize if it isn't perfect. If you find any mistake or you have any suggestion for a better translation, please contact us.
Ingredients
Olive oil varieties
Instructions
Let the peppers for a whole night in a little olive oil.
You can use this explosive mixture (removing the peppers if necessary) to dress a pasta dish, or for bruschetta or polenta, or, why not, on grilled vegetables, or even on some crusty bread for a snack or a snack after hours ... In any case will give you that famous "geek out"! ;-)))
---
---
---
---
---
Notes
Thanks to Emanuela Barbero, webmaster di Vegan3000 e autrice di libri di cucina vegan
Your comments
e' impossibile,anche con i piu' piccanti peperoncini al mondo (thailandesi e i sichuan)che in una sola notte possano lasciare il sapore. bisogna tritarli con tutti i semi e poi lasciarli in infusione finche' l'olio non sia colorato di rosso. a questo punto si filtra e si ripone. cosi ne bastano poche gocce e si puo' regolare meglio il dosaggio.
- giovanni -