Aromatic salt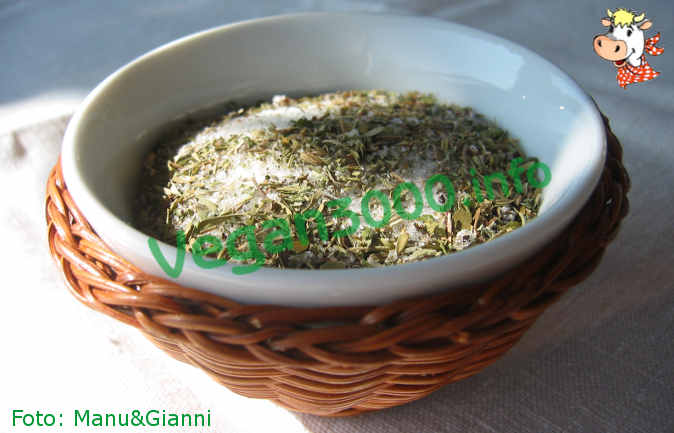 Disclaimer
This translation has been done by an automatic system, therefore we apologize if it isn't perfect. If you find any mistake or you have any suggestion for a better translation, please contact us.
Ingredients
1 kg of iodized up
80-100 g of a mixture of dried herbs and chopped finely
Instructions
Get the salt and herb mix (your choice): dried aromatic herbs mixtures are commercially available ready-to-use.
Mix everything thoroughly.
Your aromatic salt is ready.

This salt is great for salads, in soups, on bruschetta and vegetables.
---
---
---
---
---
Notes
Thanks to Emanuela Barbero, webmaster di Vegan3000 e autrice di libri di cucina vegan
Your comments
Io lo faccio essiccando prima le erbe del mio orto: rosmarino, salvia, prezzemolo. Ne aggiungo altre di acquistate e uso sale rosa dellHimalaia, almeno così ho un sale verde di alta qualità. Grazie delle vostre ricette
- Marta -
Grazie a te Marta per i consigli... e per l'apprezzamento! :-)
- Manu di Vegan3000 -